India vs Australia 2nd ODI
Australia won the toss and elected to field first
Here are the Teams
India: Rohit Sharma, Virat Kohli, Shikhar Dhawan, KL Rahul, Shreyas Iyer, Manish Pandey, Ravindra Jadeja, Navdeep Saini, Kuldeep Yadav, Mohammad Shami, Jasprit Bumrah.
Australia: David Warner, Aaron Finch, Marnus Labuschagne, Steven Smith, Ashton Agar, Ashton Turner, Alex Carey, Pat Cummins, Mitchell Starc, Kane Richardson, Adam Zampa.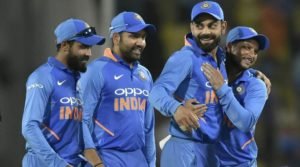 Rohit and Shikhar gave a solid start as they scored 55 for 0 in 10 overs. At the halfway stage, they scored 151 for 1. India scored 340 for 6 in the innings. Shikhar Dhawan achieved 96 in 90 balls but he got dismissed by Kane. Rohit played to run a ball 42. Virat played to run a ball 78. Kl Rahul achieved 80 in 50 balls but he got run out and his strike rate was 153. Adam Zampa picked three wickets. Kane Richardson took two wickets.
Australia also played well as they scored 304 runs but fell short of few runs.  Steven Smith played well but he missed out his 100 as he got dismissed on 98 by Kuldeep. Marnus played to run a ball 46 and small contributions from everyone takes the team to a total of 304. At one stage, when Smith and Marnus were on the crease, it looked like they are in the game and can win the match but once they both got dismissed then things got changed.
India put pressure on them by bowling some good deliveries and picked wickets at the crucial time and they won the game by 36 runs. Mohammad Shami picked three wickets. Navdeep Saini, Kuldeep Yadav, and Ravindra Jadeja took two wickets. Kl Rahul is awarded as the Player of the Match for his outstanding form. His batting positions were also changed from number 3 to number 5 but still, he performed brilliantly. Should he be considered as the number one choice as a wicketkeeper-batsman? Virat also praised Rahul the way he batted and said that is why he backed him and it is important not to drop a player like him.
Image Credit