Cricket vs Football Introduction
Well, you might be wondering what is need to compare these two sports? The thing is, one needs to have a better perspective in case he or she wants to see what are the differences between these two sports. That is why we have decided to do this. We will be comparing Cricket vs Football by making use of tables mostly so that you can have a look at the similarities and differences side by side.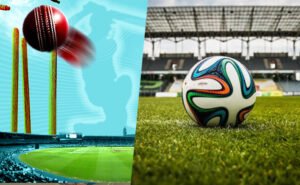 Cricket vs Football Comparison
Here we present you with the most awaited comparison. Hope that it helps you to gain some insight into how cricket and football are different from one another as sports.
Comparison on the basis of
Cricket
Football
Number of Players per team
11
11
International governing body
ICC
FIFA
Important Tournament
ICC Cricket World Cup
FIFA World Cup
Number of Fans Globally
2.5 billion
5 billion
Originated in
Britain
Britain
The goal of players in a game
Scoring more runs than the other team
Scoring more goals than the other team
Famous leagues

IPL (Indian Premier League)
Big Bash
Global T20 League
PSL (Pakistan Super League)
Caribbean Premier League
Bangladesh Premier League

EPL (English Premier League)
La Liga
Bundesliga
Chinese Super League

First World Cup Year
1975
1930
Last World Cup Year
2019
2018
Iconic International Players

Sachin Tendulkar
Don Bradman
Vivian Richards
Garfield Sobers
·Brian Lara
Shane Warne

Pele
Diego Maradona
Cristiano Ronaldo
Lionel Messi
Zinedine Zidane

Formats
T20, ODI, and Test cricket
None
The country that won the most world cups
Australia
Brazil
Ground Size
Can vary
Is fixed
Is included in the Olympics?
Only was included in 1900 Olympics
Yes
Who officiates the match?
Umpires
Referees
How many Umpires/Referees are on the field?
Two Umpires
One Referee
Duration of a match
Depends on the format.
90 minutes
Popular In
Mainly commonwealth countries.
Is popular all over the world
Popularity in India
Popular all over the country
Popular in states like West Bengal, Assam, and Goa
Upcoming World Cup
2023 (India)
2022 (Qatar)
Ranking of India internationally
2nd (Test cricket), 2nd (ODI), and 3rd (T20I)
104th
Famous Indian Players

Sachin Tendulkar
Kapil Dev
Sunil Gavaskar
Virat Kohli
Rahul Dravid
VVS Laxman
Anil Kumble
MS Dhoni
Sourav Ganguly
Harbhajan Singh
Zaheer Khan

 

Bhaichung Bhutia
Sunil Chetri

Famous Video Games Associated with the Sport
Cricket 19, Cricket 07, Ashes cricket, etc.
FIFA series, UEFA series, etc.
Famous Stadiums Around the World
Lords, Melbourne Cricket Stadium, Oval, Gabba, Sydney Cricket Stadium, and Eden Gardens.
Wembley, St. James Park, Old Trafford, Camp Nou, San Siro, and Maracana.
Ease of playing
Has the requirement of many things for playing like pads, gloves, stumps, bat, ball, helmet, etc.
Can be played with just a ball.
Violence amongst spectators
Very rare
Quite common in some countries and there are documented incidents of it too.
How easy is the sport to understand?
Fairly easy
Somewhat difficult to understand for newbies
Plus Points

       Has many formats.
       Isn't that much physically demanding?
       Fewer chances of getting hurt.
       Players have ample time to make a comeback

        Best for fans since most matches last for just 90 minutes.
       Intense and filled with energy.
        Don't take much of your time to watch the entire match.

Drawbacks

 A test match goes on for five days and hence it's somewhat long.
Pitch affects the match a lot.
Somewhat slow.
Is often called 'batsman's game' because of the significant role that they play

Has no formats which makes the sport kind of monotonous.
Players do their best to gain an unfair advantage.

Fitness of players
Isn't that necessary to be fit to do well in cricket?
You have to be fit if you want to perform well in a football match.
Has India won any World Cups?
Yes. Twice in fact. 1983 and 2011.
India is yet to win one in football.
Role of strategy building
A lot. This is because ample time is there to implement strategies and then change them is required.
Not that much since the matches are quick.
While this table might have helped you to get an idea about how these two sports are different, there are some more questions which need to be answered about these two sports. Let's now dive into the frequently asked questions section.
Cricket Vs Football Popularity
Without a doubt, football is far more popular than cricket globally, but the localised popularity of cricket is quite high in some countries. It should be noted that football is played in almost all countries.
As cricket originated in England, it went on to gain prominence in countries which were part of the British Empire. Yes, football too started from there but when it came to British colonies, the popularity was skewed in the favour of cricket.
Reasons for football being more popular
Easy to play as a ball is sometimes more than enough.
Gained foothold in South America where it is immensely popular today.
Time required to conduct match is relatively short.
The rules are quite simple as compared to cricket.
Less number of players can also enjoy the sport.
Is more about skill and technique as unlike cricket, all it comes down is to a ball and what you can do with it.
Conclusion
Hope that you liked this comparison between both these sports. The cricket vs football debate shouldn't be about which sport is better since both are unique in their way.
Hopefully, these two sports gain more and more popularity in the world and India and we get to see some more highly talented players in the future. Do let us know if you think that we missed some important parameters to compare in our comparison table in the comments section below.
FAQs About Cricket vs Football
Are top footballers richer than top cricket players?
Yes, top footballers are richer than top cricket players.
Why isn't football as popular as cricket in India?
The reason is quite simple. The Indian football team hasn't been able to perform that well at the international level. But again, this might be because the game wasn't popular in the first place and hence potential players couldn't be discovered. This has become a cycle in India.
Is cricket more popular than football?
Nope. Football is more popular than cricket since cricket is yet to become famous in non-commonwealth countries. The process is ongoing and hopefully, someday cricket will be as popular as football.
Is football getting more popularity in India like cricket?
Yes, thanks to tournaments like ISL (Indian Super League), football is getting popular again amongst Indians. Still, we have a long way to go in terms of making the sport as popular as cricket.
Which sport is better amongst football and cricket?
They both have their appeal and charm and hence, they both are equally better.
How can I decide which one of football and cricket is better suited for me?
You can play both these sports and then based on your experience take the decision about which one is the most suitable for you.
Are there any formats like cricket in football?
No. Football doesn't have formats like cricket.
Which leagues in India are famous for football and cricket?
For cricket, IPL is famous while for football, ISL is well known.