Team India's New Deep Dark Blue Jersey has been incorporated just in time. Before they embarked on their journey for a two-month limited-over Australian series.
However, the new retro look is giving an impression of Team India's dark blue kit in the World Cup 1992. The One Day International series in Sydney, Australia will commence on November 27, 2020.
Recently, Shikhar Dhawan posted a photo on Twitter with him embracing the new Team Indian jersey. Consequently, the photo has gone viral. Fans are appreciating the new retro look Team India is aspiring for, the 1992 World Cup jersey replica.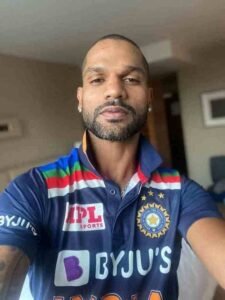 In early November 2020, the Board of Control for Cricket in India (BCCI) has made an official announcement. That a new kit for the Indian Team will be sponsored by an e-sport platform of Mobile Premier League (MPL) sports merchandise brand named MPL Sports. MPL Sports is now the new official partner of the national team. After BCCI's partnership ended with NIKE in September 2020.
There is a new agreement between BCCI and MPL Sports. It is for the duration of three years from November 2020 to December 2023. Upcoming India's series against Australia on the Australian land will witness the new Indian jersey for the first time and will be MPL Sport's association with the Board of Control for Cricket in India (BCCI).
The new Indian jersey has finally disposed of the Team Indian's lighter blue jersey and its various versions sponsored by different associations. Team India had worn the light blue coloured jersey for almost two decades. Phew! The bright and shining new dark blue-coloured jersey for Team India. Having broad colourful stripes at the shoulder looks will definitely be appealing and pleasing to the eye.
When India will play the first match of the One-Day International series against Australia on Nov 27, wearing the New Jersey will create a nostalgic moment for former Indian Players. However, the broad-coloured stripes incorporated in the jersey reminds of the time when the first coloured clothing was introduced at the 50 over World Cup.