Introduction
As you know AB De Villiers is called Mr 360 for his ability to hit shots and ABD because it is the acronym for his name. But have you ever wondered why AB De Villiers Is Called Superman? This is what we are going to talk about.
The Reason Behind His Superman Nickname
While you might be thinking that people call him Superman because of something which is to do with his batting or fielding, this isn't the case. Without a doubt, he is an exceptional cricketer in terms of every aspect but here we would like to share some records which he created that prompted people to give him the title of Superman. He is brilliant in batting, fielding, wicket-keeping and captaincy that is why AB De Villiers Is Called Superman.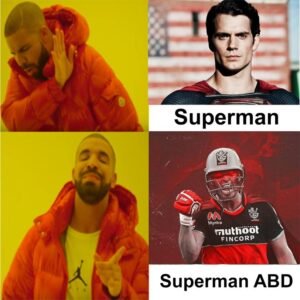 ABD Records
He ranks 3rd globally in terms of batting average in all formats of cricket.
He maintained a strike rate of a whopping 136.73 in the ICC cricket world cups that he played.
First South African batsman to hit back-to-back tonnes in a world cup (happened in 2011).
First South African batsman to score a double tonne against the Indian team.
ABD is also one of the greatest fielders that the world has known till now.
He remains the 2nd top scorer for a given innings as a South African batsman.
And, as said before, he can play shots and score runs in all possible directions.
He got out on 0 after 78 initial test innings. This to date is a record amongst South African cricketers.
The record for being the fastest 50 as a South African is also in his name.
The same goes for when we talk about the record for the fastest test tonne.
De Villiers has also made the world's fastest 150 in the ODI format.
He has achieved these records and proved himself to be worthy of being called Superman.
FAQs
Who is known as Superman of cricket?
AB de Villiers
How is the Superman of cricket?
The Superman of cricket, AB de Villiers is 37 years old and is retired from international cricket. He does play in the IPL.
Who is the Superman of Indian cricket?
Rahul Dravid. There are several reasons for that. He was a batsman par excellence in both ODI and Test cricket and has also served as the captain of the Indian national team. He is one of the best Indian cricketers of all time.

The Day Dravid Declared Innings With Sachin At 194*
Yes, this did happen on 29th March 2004. If you ask those who saw the match, they would tell you that the decision wasn't what many fans expected. The incident was discussed by Sachin in his autobiography too. He talked about how he wanted to be left alone after what transpired.