Yo Mahesh announces his retirement today from all forms of cricket. He played for two IPL teams, the Delhi Daredevils in the first season (He was also the highest wicket-taker then) and for the CSK (Chennai Super Kings).
Yo Mahesh took to the social networking platform Twitter to announce his decision. He also thanked the Indian cricket board (the BCCI) and the local Tamil Nadu Cricket Association (TNCA) for their support while he played the sport. It is quite a sad day for his fans as he has said goodbye to the sport.
His career was riddled with injuries and he did regret this in his official statement released on Twitter. He also thanked his friends and family for their support throughout his career.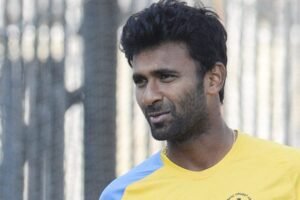 He referred to him being selected to represent India for the Under-19 World Cup as the high point of his career. Yo Mahesh was also the fellow teammate of Ravindra Jadeja, Rohit Sharma, and Cheteshwar Pujara in the 2006 World Cup (under-19) held in Sri Lanka.
He played his last match in 2019 August when played a TNPL match for his franchise. As for his last match for Tamil Nadu, he played it in 2018 September against Assam.
His complete name is Vijaykumar Yo Mahesh. He is lovingly referred to as 'Yomi' by his fellow teammates and fans. He could have done better with his career. But, sadly his performance declined when it was required and he faded away from mainstream cricket.
Overall, he was able to successfully take 253 wickets in total in all formats of cricket. His age now is 32 years. He could have played for a couple of years more but he took this sudden decision at his discretion.
It's sad for Tamil Nadu cricket as they have lost a great pacer. We wish Yo Mahesh for whatever he chooses to do in the future.