Indian cricketer Ajinkya Rahane
Ajinkya was born on 6th June 1988 in Ahmednagar, Maharashtra. He has a sister by the name of Apurva Rahane and a brother, Shashank. His father took him to a cricket camp when he was just seven. Since when he was 17, he started to practice under the guidance of Shri. Pravin Amre.
Early Career
He made his first-class cricket debut when he was just 19 while playing for Mumbai in September 2007. Rahane smashed 143 runs in his debut innings off 207 balls. He then scored 172 runs in the Duleep Trophy for the West Zone in 2007-2008.
He also played a significant role in Mumbai winning the 2008-2009 Ranji title since he scored 1000+ runs in that season. In his List-A debut too he scored 61 runs against Delhi.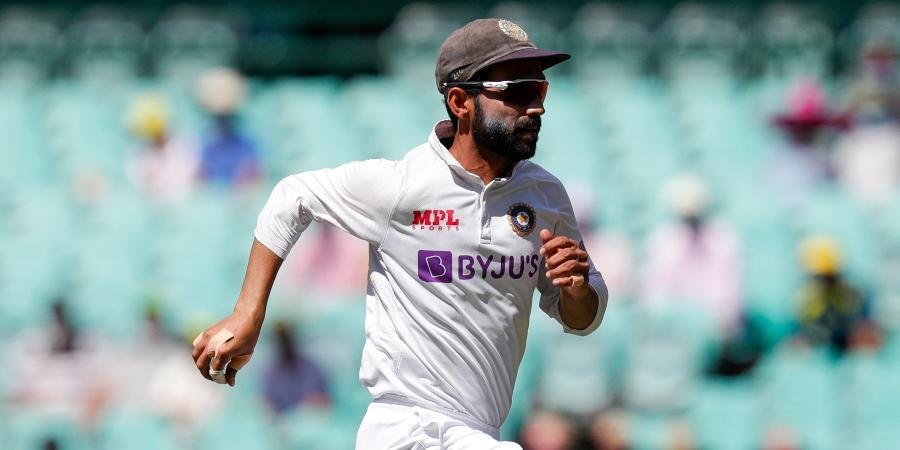 Domestic Cricket Career
Till date, he has scored 11,000+ runs in the 149 first-class matches that he played. He also boasts an average of 48.90 runs per innings. His top score being 265* runs. In total, he has hit 34 centuries and 49 half-centuries.
His List-A career has also been illustrious since he has scored 6000+ runs in 167 matches. He has an average of 39.6 in this format with a high score of 187. While he has scored ten centuries and 42 half-centuries till now.
IPL teams for which Ajinkya Rahane has played
Rahane has played for 4 IPL teams till now. They are:
– Delhi Capitals (2020)

– Rajasthan Royals (2018-19) & (2011-15)

– Rising Pune SuperGiant (2016-17)

– Mumbai Indians (2008-10)
Till date, he has played 149 IPL matches in which he has scored 3933 runs in total with an average of 31.71. He has also scored two centuries and 28 half-centuries with a high score of 105*.
Ajinkya Rahane Test Debut
He made his test debut on 22nd March 2013 against the Australian Cricket Team in New Delhi. Ajinkya scored seven runs in India's first innings and just one run in the second innings. He also took the catch of Steven Smith.
As for the match, Australia has won the toss and had decided to bat first. They managed to put up a decent total of 262 runs with the help of Peter Siddle (51 runs), Steve Smith (46 runs) and Phillip Hughes (45 runs).
India in response scored 272 runs due to the contribution of their openers and Ravindra Jadeja. Meanwhile, Australia's second inning got over after scoring just 164 runs, and they set a target of 155 runs for the Indians.
India quickly chased this in just 32.2 overs with C. Pujara (82 runs in 92 balls) and Virat Kohli (41 runs in 60 balls). Overall, it wasn't a debut which he was looking forward to.
Ajinkya Rahane ODI Debut
His ODI debut happened against the England Cricket Team on 3rd September 2011 in Chester-le-Street, England. He scored a decent score of 40 runs off 44 balls while hitting six boundaries. He and Parthiv Patel gave India a superb start.
As for the match, the English had won the toss and had decided to field first. India scored a competitive score of 274 runs because of the contribution of Virat Kohli (55 runs), Rahane (40 runs) and Parthiv Patel (95 runs).
Stuart Broad and Tim Bresnan took two wickets each while Samit Patel was the most economical English bowler. The English managed to score just 27 runs in the 7.2 overs, which were possible since rain disrupted the play and ended abruptly.
Overall, it was a decent debut for Rahane as he scored quite well. Most importantly, he took his time and made sure that India got a good start by building a partnership with fellow opener Patel.
Ajinkya Rahane T20 Debut
His T20 International debut happened against the English cricket team on 31st August 2011 in Manchester, England. He had a memorable debut because he contributed 61 runs in just 39 deliveries while hitting eight boundaries. He was the top scorer of the team too.
As for the match, India had won the toss and had decided to bat first. They put up a decent score of 165 runs in which Rahane, Rahul Dravid (31 runs in 21 balls) and Suresh Raina (33 runs in 19 balls) were the top scorers.
Jade Dernbach took four wickets and stopped the Indian team from making a significant score. The English managed to chase the set target in a close chase while just three balls were remaining. Eoin Morgan was the highest scorer (49 runs in 27 balls), and he was assisted by fellow teammates Ravi Bopara (31 runs) and Kevin Pieterson (33 runs).
Ajinkya Rahane IPL Debut
He made his IPL debut on 27th April 2008 against Deccan Chargers (now defunct) in Mumbai, Maharashtra. Sanjay Bangar dismissed him without scoring a run.
As for the match, Deccan Chargers had won the toss and decided to bowl first. Mumbai Indians managed to put up a score of 154 runs as their top-order batsmen Dwayne Bravo (34 runs, 18 balls), Abhishek Nayar (34 runs, 19 balls) and Shaun Pollock (31 runs, 31 balls) played well.
Shahid Afridi, Sanjay Bangar and Rudra Pratap Singh took two wickets each for their team while Nuwan Zoysa has to stay content with just one wicket. RP Singh was also the most economical bowler of all.
Surprisingly, Deccan Chargers successfully chased the target without even losing a single wicket! Opener Gilchrist scored a century (109 runs in just 47 balls) while his partner VVS Laxman also contributed 37 runs.
This debut wasn't great for Rahane as we all might have guessed.
Ajinkya Rahane Wife
Rahane is currently married to Radhika Dhopavkar. She was born on 10th April 1991 in Mumbai, Maharashtra. Her father used to work in a company related to the merchant navy. They got married on 26th September 2014.
Rahane and Radhika were friends since they were kids. They also became parents in October 2019 when Radhika gave birth to their daughter Aarya. She is a loving mother and wife. She also has a sister by the name of Shreya.
Radhika also has an Instagram account @radhika_dhopavkar (a verified account) with 377 thousand followers. She mostly shares their family pictures in which the major highlight is their daughter. While some images are also of her and Ajinkya.
She has always supported Ajinkya throughout his career after they were married and will do so till he keeps on playing cricket. She too is a Maharashtrian, and their wedding was a typical Maharashtrian one as one might expect.
Ajinkya Rahane Age
Since Ajinkya Rahane was born on 6th June 1988, he is currently 32 (thirty-two) years old. His birthday is coming in a few months and his fans are looking forward to it. While his critics might argue that he is no longer a young player, but he still has a lot of cricket left in him.
Hopefully, we will be seeing him play for a long time to come. His millions of followers on social media platforms are a testimony to the fact that his fans still believe in him and do want to watch him play as long as they can.
Ajinkya Rahane Height
Ajinkya Rahane is 1.68 (one point six-eight) metres tall if we talk about his height. That is about 5 feet and 6 inches. If we talk about the tallest ever cricketer who played in international cricket, then its Mohammed Irfan from Pakistan who is 7 feet and an inch tall.
Meanwhile, Ishant Sharma is currently the tallest Indian cricketer with a height of 6 feet and four inches. Height is important in case you are a pace bowler. But for batsmen like Rahane, it isn't an issue since Sachin, Bradman, Lara, Ponting etc. were relatively short with respect to their height.
Ajinkya Rahane Net Worth
His net worth is estimated to be around a whopping nine million American dollars. Its all thanks to match fees, BCCI, IPL and most important of all, brand endorsements. Some of the brands which he has endorsed in the past are Anukampa group, Nike, Spykar, HUDLE, Elsa Corp and CEAT.
I Follow the Vedanta Philosophy" -Ajinkya Rahane on Always Having a Straight Face
Ajinkya Rahane who was recently in the news for leading team India to victory in the Border Gavaskar Trophy of 2020-2021 was asked about how he manages to keep himself calm in adverse situations.
The answer which he gave was that he follows the Vedanta Philosophy. Also, he added that he has been following this from the past 6 to 7 years in his life and has observed great results. So, now you might be wondering, what is this Vedanta Philosophy?
Vedanta Philosophy Decoded
It is a type of Hindu philosophy. One of its basic features is that a person is responsible for his/her actions and has to deal with their consequences as well. Rahane seems to have learnt from this particular feature a lot.
Getting angry or frustrated will add up on the negative karma of a person and he/she will have to definitely suffer the consequences. This philosophy has also influenced a lot of western thinkers and intellectuals.
This philosophy is just one of the countless things which Hinduism as a religion has given to the world. One can read about things like these and get enlightened with knowledge. Trying out things and then finding out the one which suits you the best is the way to go forward.
It is really great to see that well-known cricketers like Rahane are following things like these and aren't afraid to share them with their fans and the world. In today's world where mental satisfaction is something which everybody is lacking, efforts like these are needed for the well-being of our society.
And influencers like him can play a major part in this by trying and then promoting ancient pearls of wisdom like this one. Hopefully, we will see a revival of these philosophies and wisdom.
FAQs
What is Ajinkya Rahane's full name?
Ajinkya Rahane's full name is Ajinkya Madhukar Rahane.