In 1977, Bangladesh became an associate member of the ICC. But, they became a full member in 2000. It played its first-ever test match against neighbouring India in November 2000. Its first-ever ODI match was played against Pakistan under the Asia Cup on March 31st 1986.
After its formation, football was the most popular sport in Bangladesh, but cricket slowly took it over first in the urban areas and then throughout the entire country. It managed to win the ICC Trophy held in Malaysia after which it was declared as qualified for the 1999 cricket World Cup.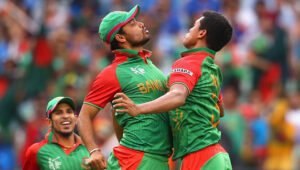 Bangladesh managed to defeat Pakistan in the World Cup. This created shockwaves, and finally, Bangladesh was granted ICC membership.
They holds some sad records to their name as well. They are the only team who have lost 21 consecutive tests and 23 ODIs. That was a bad phase of Bangladesh cricket. But it has passed long back. Before Bangladesh gained independence in 1971, many of their players played for the Pakistan cricket team.
Bangladesh is also the quickest nation when it comes to completing 100 tests. They are also the only team that has never tied a test match during their entire existence. Their highest ever total in ODI cricket is 333 runs against the Australian cricket team.
Some of their best batsmen throughout their existence include Mushfiqur Rahim, Shakib Al Hasan and Tamim Iqbal. However, their best bowlers are Rubel Hossein, Abdur Razzak, Shakib Al Hasan and Mashrafe Mortaza.
Their highest ever score been 638 runs in test cricket format, and that was against Sri Lanka. Bangladesh cricket team has come a long way since its inception, and it will be interesting to see how things go for them in future.