Canberra cricket ground is amongst the many cricket ground in Australia. It was known as Manuka Circle Park before its name was changed to Manuka Oval.
Cricket was first played at Canberra Cricket Ground in 1930 April. The ground got its floodlights in the year 2012. The first ODI to be played on the ground was the 1992 world cup match between South Africa and Zimbabwe.
Besides this match, the ground wasn't used much for international cricket. In the 2015 cricket world cup, the ground again hosted 3 matches. This is also the home ground of the team Canberra Comets which plays in the Futures League. You would be surprised to know that Australian rules football and rugby are also played on this ground. With Australian Football League matches being played on a regular basis.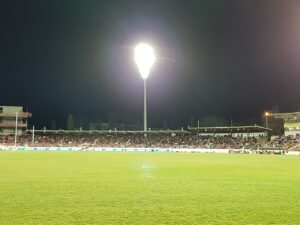 The ground has a sitting capacity for 13,550 people. An annual match is played on the ground featuring the prime minister's eleven team and others. Overall, it is quite a great ground for playing any kind of cricket.
Manuka Oval got its upgrade in late 2011 when 4,300 seats and other amenities were added to the stadium for a whopping 4.3 million dollars.
As of now, the ground is playing host to India's tour of Australia (2020-2021). We hope that this ground sees its fair share of cricket in the upcoming time. This is since the ground did not see much cricket in its initial years as a cricket ground.
We hope that you liked this article and have learned a lot related to the Manuka Oval ground. Stay connected for more updates related to cricket.