About Chris Gayle
Christopher Henry Gayle, more popular as Chris Gayle, is a prominent cricket player. He is a Jamaican cricketer and is profoundly known for his outstanding batting skills. Chris Gayle is a left-handed batsman and plays for West Indies. Gayle has set a plethora of records in the cricket arena. He is the only West Indies player who is capped the most number of times in the international cricket horizon.
Chris is the only player who has set a milestone of slashing 1000 sixes in T20 format. He is also the first player to earn double hundreds in the World Cup. Gayle has also accomplished the feat of the fastest ODI double hundred in the entire ODI history. The mighty player has also earned the most number of sixes in a World Cup innings. The player is also the first one to score 150+ in an ODI match. He has successfully established the milestone of taking two wickets and a catch in an ODI match. Gayle is also the first player to earn 300 in Tests, 200 in ODIs and 100 in T20s.
Chris Gayle is renowned as Gayle force, Gayle storm and universe boss. He is known for making terrific sixes and thus is also popularly called Six Machine. The amount of talent and popularity which Chris Gayle possesses is unmatched. He has proved his supremacy as a batsman during the entire course of his journey. Gayle never fails to appease his fans with his mind-blowing performances.
He has also established his magic in the IPL region. He plays for Punjab Kings and is also the first player in IPL to hit 300 sixes in entire IPL history. Chris embarked on his international cricket journey in 1999, and since then, there seems to be no going back for him. He is still the most celebrated and notable global player.
Early Life 
Chris is a superstar of the cricket avenues. Gayle has surpassed every feat and record in the cricket arena with his fantastic talent. Let's have a look at the personal life of the Gayleforce.
King Gayle was born on 21 September 1979 in Kingston an island country Jamaica. Chris was born in a middle-class family. His father was a policeman, and her mother was a vendor. Her mother used to sell peanuts and snacks on the Jamaican streets.
Chris had a keen interest in sports right from budding age. He laid the root of his cricket career playing for Lucas Cricket Club in Kingston, Jamaica. He started his career by playing on national levels for West Indies. He made his international debut in 1998, and since then, his career has transcended great heights only. Then, year by year, Gayle added more enthusiasm and expertise into cricket, and today we all know him as a superstar.
Age
41 years
Date of Birth
21 September 1979
Height
6 Feet 2 Inch or 1.88 m
Educational Background
Let's unveil a little about the world-famous batsman Chris Gayle's education arena. He completed his schooling at Excelsior High School in Jamaica. After completing schooling, Gayle moved to Dawood University of Engineering and Technology for his higher studies. His education qualifications are only high schools. Although he does not own an elaborate education career, he does acquire immense prominence in the cricket avenues.
Chris Gayle Test Debut
Nobody can deny the magical aura of Chris Gayle in the cricket space. He is the most astounding player. No player can match the grace and professionalism of Chris Gayle in the arena of cricket. Gayle embarked on his journey in the test pattern in March 2000 against Zimbabwe. In his debut match, he just earned 33. But the very next year, that was in 2001; Gayle scored his first test century. He made 175 against Zimbabwe and portrayed this excellence.
It is how the journey of universe boss Chris Gayle gained momentum in the test cricket pattern. After making the debut, Gayle continues to prove his charm in the test cricket realm. He has established numerous glorious milestones in the test cricket area. The player has earned 42 international centuries, and in that around 15 centuries, he has scored in test matches only. It was all about the test debut of the supreme player Chris Gayle.
Chris Gayle ODI Debut
Chris Gayle is a renowned cricket player. He has amassed immense importance in the cricketing realm. He debuted in the ODI realm on 11 September 1999 against India. This left-handed batsman is the most legendary player in the cricket set. Hailing from the West Indies, Chris has proved his supremacy and charisma across the world. In One Day International matches, he has set numerous impressive milestones.
He has secured more than 10, 480 runs in the ODI avenues only, which are pretty huge in itself. Gayle has earned 25 centuries and 54 fifties in ODI matches only. The player has played approximately 301 one day internationals. His international career is awe-inspiring, and it easily makes him the most prominent player in the entire world. He is considered the ultimate boss of the cricket area. Wearing 333 number on his shirt, he never fails to appease his fans and audiences with superb performances.
Chris Gayle T20 Debut
Chris Gayle is a big name in the international sports area. His splendid performance and explicit consistency in the game is the reason why every cricket fan swoon over him. Chris Gayle made his T20 debut against the New Zealand team long back in 2006. His debut took place on 16 March 2006 at Eden Park in Auckland.
In the T20 format, Gayle has participated in a total of 58 matches. The number of matches might be low, but not his performance. He has accumulated 1627 runs in all his T20 games. The powerful batsman has amassed two centuries and thirteen fifties in the T20 arena. His top score in T20 matches is 117.
Gayle also owns the massive record of smashing most number sixes in World T20s. The overall strike rate of Chris in T20s is 32.54, which is exceptionally terrific.
Chris Gayle IPL Debut
Chris Gayle is effortlessly the most talented and popular Jamaican player. He has accomplished his supremacy not just in his domestic land but also on all the international forums. In the Indian Premier League, too, the player has set so many records. He debuted in the IPL in 2009. Since then, he has outshone everyone with his remarkable performances in the IPL region. The universe king plays for Punjab Kings XI.
With his impeccable achievements, he has earned a massive fan base in India. Although the career of Chris Gayle needs no elaboration, it is definitely true that his debut in IPL added more feathers to his international career's cap. He has played almost 140 IPL matches.  He is the biggest asset of the Punjab team. The team is profoundly known to possess Chris Gayle as a prominent player in their team. Gayle is an influential figure in the IPL and is celebrated in the IPL area with great prominence.
Chris Gayle Wife
Chris Gayle is a phenomenal cricket player. He is known for his legendary career and supreme performances. The terrific player owns a beautiful family. He is married to Natasa Berridge. Gayle married Natasa on 31 May 2009. Natasha is not just known for being the wife of Chris Gayle. She is an eminent fashion designer. Gorgeous Natasa is also a prominent lifestyle presenter. Her proficiency in exemplifying lifestyle and fashion cues seems unmatched. Natasa is also known by her other name Allysa Berridge. Natasa is a Christian and holds the nationality of Jamaica. She is a celebrity star as she is married to the most popular player of the West Indies.
Natasa looks stunning, and she also has a great fashion sense. She has good popularity on social media networks. Natasa is also pretty active on Instagram. She regularly gives outlooks of her personal life by posting pictures with Chris. Natasa is also a known entrepreneur. She owns a big clothing brand called Ultra Carnival. She executes this brand with such grace and enthusiasm that Ultra is a massive name in the fashion industry. Apart from a superb fashion sense, Natasa is also a very devoted fitness freak. She is the epitome of balance when it comes to fashion and fitness.
Natasa and Gayle share a very beautiful bond. They have been together for many years and still are one of the most beautiful couples in the cricket industry. The pair gives major relationship vibes and goals. They are also blessed with a daughter. Their daughter Kris Allyna Gayle is a lucky charm as both Natasa and Chris have unravelled great success after her birth. Natasa's support and immense cooperation is also a significant reason why Chris is so active and vigilant in his games as his wife Natasa manages everything in their personal life beautifully.
Chris Gayle Daughter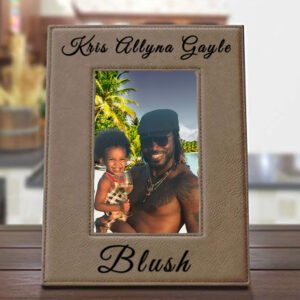 Chris Gayle is in a long term relationship with Natasa Berridge. Her wife is a major support to him. The beautiful couple has a daughter too. Chris Gayle's daughter's name is Kris Allyna Gayle. The cute little girl has got a nickname too. She is called blush by her loved ones.
Chris Gayle's daughter is a big support for her; he also considers her his lucky charm. It is because, since the day she has entered into Chris's life, his success is propelling at a double pace. Her bubbly daughter is now a five-year-old kid. Gayle is often seen taking care of her daughter when he is off the field.
He puts pictures with his daughter so that his fans can have a look and cherish the beautiful father-daughter bond. Chris keeps posting stuff about her daughter where they enjoy dance and other activities. He loves spending a lot of time with her little one.
Chris Gayle Highest Score In IPL
Chris Gayle is a fantastic player. He has secured immense prominence in the cricket arena. Be it international or domestic cricket,  Chris Gayle has proved to have established his supremacy. He has been an active player in the Indian Premier League too. The world's most fantastic batsman has shown his talent on Indian grounds too. He plays for Kings XI Punjab. The team is super proud to have him because no one can deny the legacy Chris Gayle carries.
The highest ever score of Chris Gayle in IPL is 175. He secured such a significant number in a T20 format, which is pretty incredible in itself. He established this remarkable milestone on the 31st march of 2013. He made 175 runs against RCB.  His century is also one of the fastest centuries in the entire IPL realm.  He secured a perfect century in just thirty balls which is a massive victory in an IPL regime.
Not just the biggest ever T20 century was recorded, but Gayle set another record too in this innings that is scoring most number of sixes in a single inning of a 20-20 match. He achieved these big runs and persisted on the grounds. The massive score of 175 was completed in mere sixty-six balls.  Gayle scored seventeen sixes in this innings, which is an excellent record. Achieving such a score in the minimum number of balls justifies why Chris is known as Universe Boss.  This record highlights the fact that Chris Gayle is a pure gem.
It was all about Chris Gayle's highest score and his dominance in IPL avenues.  This record by mighty player Gayle just strengthens the fact that his aura is something different. He is undoubtedly a magical and certainly the most talented batsman out there.
Chris Gayle Highest Score In T20
Chris Gayle is the most renowned player out there. In the t20 arena, he has established a good number of records. One of the most glorifying scores of Chris Gayle in t20 is his highest score of 117. He scored his highest score against South Africa. The match took place at Imperial Wanderers Stadium in Johannesburg on 11 September 2007. During this match, Chris Gayle's strike rate was 205.26.
One of the most astounding factors of this score is that the player amassed 117 runs in just 57 balls. Making such a big score and that too in a match of just twenty overs is a wonderful achievement. It is why Chris Gayle is the Universe Boss because no one can match his efficiency in the international cricket realm. It in itself proves the dominance of  Chris in the international cricket world.
Chris Gayle Highest Score In ODI
Chris Gayle is the most notable player in One Day Internationals. The player has established his prominence by setting a good number of records in the ODI's arena. His highest score ever in ODIs is 215. Gayle's strike rate in this match was 146.25.
He demonstrated this record in the World Cup of 2015. The match was against Zimbabwe at Manuka Oval Canberra. The match took place on 24 February 2015. It was one of the exciting matches of the 2015 World Cup.
The stunning score by Gayle also made his team win the match with a good margin against Zimbabwe. He shocked the Zimbabwe team by earning a double century in just 147 balls. Scoring such a big score in just 147 balls speaks a lot about the dominance of Chris Gayle as a batsman. When he is in full form, then records have to break and bow down to the Universal king.
Chris Gayle Highest Score In Test
 When we talk about the legendary records in the Test pattern, Chris Gayle's name appears on the top. The terrific player has accomplished so many glorious feats in the Test matches arena. The highest ever score of Chris Gayle in the Test area is 333. In just 437 balls, Gayle secured such a huge score. Yes, the triple century is the most sound and the highest score by Chris Gayle in the Test avenues. He scored this big score against team Sri Lanka.  The match took place in November 2010 at Galle International Stadium.
333 is not an easy score to earn, and that too in the Test match pattern. This record also makes Chris one of the four players who have amassed triple centuries in an inning of a Test match. Gayle's strike rate during this match was 76.20. It may seem like an astonishing figure, but for Legend Chris, It's just a simple feat.
Chris Gayle Lifestyle
Chris Gayle is a legendary player who has surpassed almost every big record in the cricket arena. In this section, we will unravel a little about the lifestyle of great Chris Gayle.
Chris is considered at the top when it comes to the wealthiest players in the world. The mighty player has an annual worth of approximately INR 300 Crores. The influential players earn this much by playing cricket, advertisements, and doing brand endorsements.
Chris has a very silly nickname. He is called crampy by his friends. The reason is Chris's laziness. It seems like Chris is vital on the pitch and a little lazy in other activities. Gayle possesses tremendous love for cars. He is very passionate about sports cars. Gayle loves getting exclusive sports cars and enhancing his personal collection. GL 63 AMG-Mercedes and Land Cruiser V8 are two of his most favourite cars. He is also quite interested in collecting bikes too. His most favourite bike is Harley Davidson FXSTSB Bad Boy. His love for cars and bikes also portrays his athletic stint. Cricketer also runs a Triple Century Sports Bar in Jamaica.
Chris owns a lavish palatial mansion in Jamaica, where he lives happily with his family. His house has notable highlights like four garages, two grand swimming pools, a beautiful bar, an extravagant home cinema, and a stripper pool. His mansion also has a special place for partying. The area is called Party House, a place where Chris often chills with his friends. He is often seen with his family and friends partying and enjoying life to the fullest. He is also known for hosting the best CPL T20 parties. Chris also owns a massive fan following on social media platforms.
It was all about the social life of great Chris Gayle, the most mighty player in the cricket avenues.
Chris Gayle Biography Book
We all know the supremacy of Chris Gayle in the cricket world. He is the most prominent batsman and undoubtedly the superstar of the cricket world. He has also published an autobiography that depicts his student passion for cricket. His biography is called Six Machine: I Don't Like Cricket… I Love It.
It comprises almost everything about Chris's glorious career and his devotion to batting. The book is published by a prominent publisher- Viking, Penguin UK. It is available on all the major book-selling platforms. Chris released this biography in 2016. Six Machine book is a big hit in the market avenues like the incredible career of Chris Gayle. 
Chris Gayle Mankad
Mankad is a prevalent concept in the cricket arena. Although it is restricted in the cricket avenues many times as it is not considered an appropriate gesture. Mankad occurs when the non-striker is not present at his ground from the moment the ball arrives into play. It occurs instantly when the bowler usually runs and is expected to free away from the ball, and the bowler is allowed to gain run to make him out.
Chris Gayle has also attempted mankad but in a different and comedy style. One of the interesting Mankad moments of Chris Gayle took place during the 2012 T20 World Cup match. The match was between England and West Indies. During the game, Chris gave a silly and very entertaining Mankad warning to Eoin Morgan.
During the play, Morgan was standing very distant from the actual crease. However, Chris didn't give him a strict mankad but an amusing and innovative one. The crazy mankad by the Universal King Gayle left everyone on the off-field sharing moments of laughter.
What is Gayleforce?
Chris Gayle is prominently renowned as Gayleforce. The eminent Jamaican cricketer is a terrific player. His playing skills are unmatched. Gayle possesses a splendid aura as a batsman. His batting skills are top-notch. Thus, his energy and expertise are prominently called Gayleforce. Chris is also popularly known as Universal Boss and sixer machine.
Why is Chris Gayle known as the Universe Boss?
Chris Gayle is one of the gem players. He is an astounding player. Mighty batsman Chris Gayle is known by a good number of names. He is prominently known as Gayleforce, Gayle storm, and sixer machine. The most famous name which supreme Chris has gained is Universe Boss. Chris himself says that he is a universal boss, and he will never retire from the game. He is the first player to earn 10,000 runs in Twenty20 cricket.
Chris has accomplished wonders in almost all the formats of the game by making big scores. He is a superstar of short formats in the cricketing realm. Gayle is also the first batsman in World Cup history to achieve a double century. He scored 200 in just 138 balls against Zimbabwe in the 2015 World Cup. No one can match the charisma of Chris Gayle in T20 format. Gayle is also one of four batsmen to achieve two Test triple hundreds.
One more primary reason Chris is called Universe Boss is that he is doing wonders in the cricket arena even at the age of 41. He is not just one of the fittest players but the most remarkable one too. 41 is almost the age where the player's game tends to take a negative curve because of incompetence and increasing age. But no such thing is visible in the game of Chris. He is still playing with the same passion and charisma.
Chris Gayle has also been through rough heart surgery. But the universe boss still maintained the same stability and vitality in the game. Be it the international or national avenues, Chris is establishing significant milestones. His dedication and passion for cricket is the reason why we know him as Universe Boss.
Records & Achievements
There is no one like Chris Gayle, the Universal boss in the cricket arena. He has established his prominence since the time he has made his debut in the cricketing realm.
Gayle has set a multitude of records with his immense caliber. Following are some of the finest records of Chris Gayle.
Chris is the batsman who has secured the highest ever runs in T20 format. He is the first-ever player to accomplish the massive target of 10,000 runs in the Tests pattern.
He is also the scorer of the highest ever runs in IPL 2011. He amassed an enormous amount of 608 runs. Not just in IPL 2011, Chris was the highest scorer in IPL 2012, too, with 733 runs.
Chris has reaped 175 runs in an IPL match. It is by far the most remarkable individual feat in T20 cricket.
Gayle has achieved the fastest century in a T20 match. He made a century in mere 30 balls playing against Pune Warriors India in IPL.
He has scored the most number of sixes in an innings of a T20 final. He had earned 18 sixes in a single inning of a T20 match.
Chris Gayle is the first-ever batsman to earn 100 T20 sixes. He has also gained the most number of centuries in T20 cricket, that is, 22 centuries.
The player also owns the tag of having six IPL centuries in a single season.
Gayle has the highest ever individual score in a losing cause in a T20 cricket match. He earned 151 vs. Kent that too remaining not out.
Chris owns the record for fastest-ever fifty in T20 cricket. He earned a massive fifty in just 12 balls against Adelaide Strikers bowling.
These are just a few significant records of Chris Gayle. His entire career is filled with numerous mind-blowing records and feats.