YouTube is one of the most visited platform in the world right now. Content creators upload their videos here for their audience. Hence, naturally, there would be Famous Cricket YouTube Channels.
Hence, we have decided to bring forward some Famous Cricket YouTube Channels that you can enjoy. We sincerely hope that you enjoy this list, and we also request you to give your feedback about this article in the comments section of this article.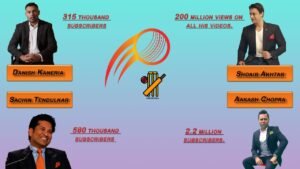 So, here we go with the list of Famous Cricket YouTube Channels.
He is an ex-Pakistani cricketer whose channel's name is Danish Kaneria 261. The story behind him naming his track is that he took 261 wickets in his Test cricket career. He has 315 thousand subscribers, and all his videos have been watched 14.38 million times.
The videos which he posts on his channel are mostly about his take on ongoing matches and series. Besides, he also posts candid videos of him with his family. A good thing about him is that he posts regularly on his channel, so his audience stays entertained.
He also teaches bowling techniques to his cricket enthusiast audience so that they can learn a lot. Overall, it's a tremendous cricketing channel if you want to stay updated with cricket related things.
Kaneria's channel came into the spotlight when his fellow cricketer Shoaib Akhtar on a Pakistani cricket TV show alleged that other Pakistani cricketers discriminated against Kaneria because he was a Hindu by faith.
Several other cricketers and Kaneria himself had to issue a clarification about the issue, which you can check on his channel. Another surprising fact about him is that he happens to be the cousin brother of another Pakistani cricketer named Anil Dalpat.
Shoaib Akhtar, aka the Rawalpindi Express, is yet another Pakistani cricket Youtuber. His channel is quite popular and he has almost two and a half million followers. He has clocked a whopping 200 million views on all his videos.
Shoaib, too, presents his expert analysis on matches that are happening. He posts other types of videos to check on the playlist tab of his channel. Shoaib Akhtar is most famous because he was the first bowler who managed to bowl at the speed of 100 miles per hour.
He had also released his autobiography after retiring from cricket in 2011. After his retirement, he has appeared in a lot of TV shows. Overall, his channel is another one that you should subscribe to if you want some great content related to contemporary cricket.
In total, he played 46 tests and 163 ODIs in his international cricketing career. Shoaib is currently married to Rubab Khan. He is also one of the few cricketers who has been caught using performance-enhancing drugs in drug testing.
He is also one of the few Pakistani cricketers who has received many bans from the PCB for various misconducts and unprofessional behavior.
Aakash Chopra is a retired Indian international cricketer whose YouTube channel has over 2.2 million subscribers. A different thing about his track than other ex-cricketers turned YouTubers is that he also interviews others on his channel.
He posts videos with his wife as well sometimes. As a YouTuber, he has achieved considerable success as he has created many different video series. He has been even more successful than Shoaib Akhtar, as his videos have clocked more than 350 million views in total.
We would also like to talk a bit about his international cricketing career as he isn't a famous Indian cricketing scene. He has played just ten tests for India and has scored only 437 runs with an average of 23.00.
He didn't play even a single One Day International for the Indian cricket team due to his poor test cricket performance. His international career was relatively short-lived, but he has made quite a name for himself post-retirement due to his hard work.
He is also a well-known commentator as of now. Besides this, he has also authored a few books, including an autobiography. He has also played in the first and the second season of the Indian Premier League. 
No discussion about cricket related things is ever complete without talking about the God of cricket himself. While Sachin might have been a great cricketer on the field. But, he is yet to succeed on YouTube as he has just 580 thousand subscribers in total.
The total views gained by all his videos is just 59 million. He has also spread awareness about the Covid-19 pandemic through his channel on YouTube. In our opinion, he can do a lot better on YouTube.
If he does things right, he can pretty soon have millions of followers from around the globe because of his immense popularity. Anyway, it is also possible to run a YouTube channel as a hobby and not something serious.
Still, we would highly recommend you to subscribe to his channel as he posts unique content there, which you can enjoy as a cricket fan in your free time.
Conclusion
As you can probably read above, we have discussed some Famous Cricket YouTube Channels which regularly upload great content on YouTube for cricket fans from around the world. Cricket is a sport that has an immense amount of fan following.
You can always subscribe to the channel mentioned above to stay updated about day-to-day things in cricket. If you think that we have missed a track that is as great as those we have talked about. Please let us know in the comments section.
We will be happy to include those channels in this particular list. And yes, if you happen to be someone who happens to have a tremendous amount of cricket related knowledge, then feel free to start your very own YouTube channel.