Hardik Pandya Introduction
Hardik Pandya AKA Hardik Himanshu Pandya is a young Indian cricketer who was born on 11th October 1993 in Surat, Gujarat. His nickname in the Indian cricket team is 'Hairy'. His father had a car financing business in Surat but the family shifted to Baroda later because his father wanted to make sure that both his sons would get world-class cricket training.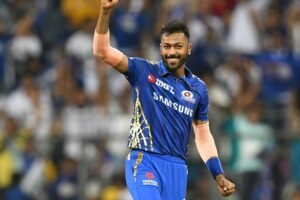 In Baroda, both the brothers (Kunal and Hardik) were enrolled in Kiran More Cricket Academy. The family was quite weak financially and both the brothers struggled a lot during their initial cricketing years.
He has been playing for the Baroda cricket team from the year 2013. He was one of the reasons why the Baroda cricket team managed to win the Syed Mushtaq Ali Trophy during the 2013–2014 season.
As for his international career, he made his T20 International debut against Australia on 26th January 2016. With regards to his ODI (One Day International) debut, he made it on 16th October 2016 up against the New Zealand cricket team.
His test debut over a year later in July 2017 against the Sri Lankan cricket team. With regards to the popular IPL (Indian Premier League), he plays for the Mumbai Indians since 2015.
Till date, he has played 11 Tests, 57 ODIs and 38 T20 International matches. As for his personal life, then he is currently married to Serbian actress, Nataša Stanković. They also had their first child on 30th July who is a son.
He also currently holds a record for being able to score the maximum amount of runs in a single over in test cricket as an Indian cricketer, which is 26 runs. He was also selected by Cricinfo as a part of the ODI XI team of 2017.
Hopefully, we will see a lot of him in the upcoming cricket matches while representing India and MI.
Hardik Pandya Test Debut
He made his test debut up against the Sri Lankan cricket team on 26th July 2017. The match was held in Galle, Sri Lanka. India had won the toss and had decided to bat first. Hardik Pandya in his very first innings scored a half-century (50 runs off 49 balls).
He smashed 5 boundaries and 3 sixes in this particular inning. He did not get a chance to bat in the second innings of the Indian cricket team.
If we talk about the match, then India scored 600 runs in its first innings. The best performers were Shikhar Dhawan (190 runs), Cheteshwar Pujara (153 runs) and Ajinkya Rahane (57 runs).
Meanwhile, Sri Lanka in its very first innings scored just 291 runs. Dilruwan Perera (92 runs) and Angelo Mathews (83 runs) were the top scorers.
India then declared its 2nd innings on 240/3 and then Sri Lanka lost the match by 304 runs.
Hardik Pandya ODI Debut
Hardik Pandya made his ODI debut on 16th October 2016 against the New Zealand cricket team. The match was being held in Dharmshala. Hardik took 3 wickets in this match. The Kiwis batting first made a poor score of just 190 runs.
A majority of Kiwi players struggled to even score in double-digit runs. The batsmen who managed to put up a fight were opener Tom Latham (79 runs) who smashed 7 fours and 1 six and lower-order batsman Tim Southee (55 runs) who smashed 6 fours and 3 fours.
As for Indian bowling, Amit Mishra (3 wickets) and Hardik Pandya (3 wickets) were the best bowlers. The best bowler in terms of economy rate was Kedar Jadhav who also managed to take 2 wickets. India successfully chased the target in just 33.1 overs. Virat Kohli contributed 85 runs in this chase while hitting 9 boundaries and a six.
Hardik Pandya T20 Debut
Pandya made his T20 International debut against the Australian cricket team on 26th January 2016. The match was played in Adelaide Oval, Australia. Hardik didn't get a chance to bat in this match but he did manage to take two wickets though.
His bowling, however, was quite expensive from an economic point of view as he gave away a whopping 37 runs in the 3 overs that he bowled. As for the match, Australia had won the toss and had taken the decision to bowl first.
India managed to score a solid score of 188 runs. Virat Kohli (90 runs) hit 9 fours and 2 sixes and he was assisted by his teammate Suresh Raina (41 runs) who managed to hit 3 four and a six.
While chasing, the Australian cricket team manages to make just 151 runs. Only skipper Aaron Finch managed to score a decent total of 44 runs.
Hardik Pandya IPL Debut
Hardik Pandya debuted in the IPL (Indian Premier League) on 19th April 2015. He was playing against the RCB (Royal Challengers Bangalore). Hardik scored 16 runs and stayed not out till the end of the MI (Mumbai Indians) innings.
The RCB had won the toss and decided to bowl first. MI managed to create a huge score of 209 runs. This became possible thanks to Lendl Simmons (59 runs), Unmukt Chand (58 runs) and Rohit Sharma (42 runs).
As for the bowling of the RCB (Royal Challengers Bangalore), David Wiese was the best bowler who managed to take 4 wickets to his credit. Along with him, youngster Yuzvendra Chahal also managed to take 2 wickets.
The RCB (Royal Challengers Bangalore) fell short of the set target and managed to score just 191 runs. Only David Wiese (47 runs) and AB de Villiers (41 runs) managed to put up some stiff resistance.
Hardik Pandya Wife
He is currently married to Natasa Stankovic. Natasa is an actress, model and dancer who is currently residing in Mumbai. She was born on 4th March 1992 in Serbia. She has given birth to Hardik's child just last year.
If we talk about her Bollywood debut, she made it in the movie Satyagraha by Prakash Jha. She rose to fame after taking part in a reality show known as Big Boss.
While she has lived most of her life in Serbia, she finally decided to move to India in the year 2012. She initially started off her career as a model for various brands. She became even more popular after Badshah's DJ Waley Babu got released.
As for her relationship with Hardik Pandya, she got engaged to him on New Year's Eve 2020. They later decided to get married amidst the Covid-19 pandemic restrictions. The name of her and Hardik's son is Agastya.
Hardik Pandya Son
Hardik Pandya's son, Agastya was born on 30th July 2020. He was unable to meet his son for a long time due to him getting busy in the IPL 2020 and the Indian cricket team's Australia tour. Hardik had to play the entire IPL tournament and a major part of the Australia tour without being able to meet with him.
He and his wife posted some really cute videos and pictures of him and his son spending some real quality time together. Fans were really happy after checking these videos and pics out.
Hardik was given rest after finishing the ODI series with Australia as his fitness level is not yet up to the mark. As for his performance in the Australia tour, then he scored 90 runs in 76 balls in the first ODI, 28 runs in 31 balls in the second ODI and 92 runs in 76 balls in the third ODI.
Hardik Pandya Koffee With Karan
While Hardik Pandya's career has been mostly spotless till date, a blot appeared on it in January 2019. This was when he alongside his teammate KL Rahul appeared on Koffee with Karan.
Hardik went to make some really derogatory remarks about women in general and he proudly boasted about his first physical encounter with a woman. He didn't just stop there and went on to say that he likes to watch how women move at nightclubs and bars.
Pandya later apologized for his behaviour on the talk show and said that he thought that he got 'carried away' with the flow of the show. The BCCI (Board of Control for Cricket in India) took swift against both the players even though it was Hardik himself who had spoken such words.
To add further damage, reputed razor manufacturer Gillette suspended their contract with Pandya for the promotion of their branded razor.