Mohammed Amir Quits International Cricket
Pakistani cricketer and pacer Mohammed Amir Quits International Cricket as he has announced his retirement from overall international cricket via a video statement on the social networking site, Twitter.
He blamed the PCB (Pakistan Cricket Board) and alleged that the Pakistan cricket team management was trying to torture him mentally. Amir's decision to quit cricket came after he represented the Galle Gladiators in the LPL (Lanka Premier League).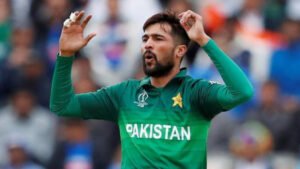 Amir got notoriety after his involvement in a match-fixing scandal while playing matches with the English cricket team. He was also arrested and banned for five years (from 2010 to 2015) for his involvement in the entire scandal.
In his video statement, Amir thanked his fellow teammate and former Pakistani skipper Shahid Afridi for his support during his difficult times. He said, "Shahid Bhai helped me during difficult times and supported me throughout my career. I thank him for doing that".
If we talk about Mohammed Amir's international statistics then they are as follows
1. T20 Matches: 50 matches
2. ODI Matches: 61 ODIs
3.Test Matches: 36 tests
The Pakistan Cricket Board meanwhile confirmed his retirement and referred to it as his 'personal decision'. Mohammed Amir was part of the Pakistani squad that won the ICC champions trophy in the year 2017 and the ICC T20 cricket world cup in 2007.
Whether or not he will continue playing for domestic cricket league of other countries such as the LPL (Lanka Premier League) is still unclear. We although hope for the best for both Mohammed Amir and his fans throughout the world.
He took this major decision after not being able to make it into the Pakistan team which is going to play against New Zealand in the upcoming series. He was really disappointed for not being able to make it into the team.
This is quite an unfortunate end to an international cricketer's career and things might have ended in a better way. We wish Mr. Amir luck for his future endeavors in his life.