Mohammed Siraj recently experienced a misfortune when his father Mohammed Ghaus passed away in Hyderabad. Ghaus who was 53, was suffering from a lung disease for a very long time and on November 20, 2020, the father of the Indian pacer was no more. 
Mohammed Siraj Father Mohammed Ghaus passed away. 26 year old, Siraj has played in IPL for Sunrisers Hyderabad and Royal Challengers Bangalore and now also with the men in blue jerseys. Siraj in Indian Premier League 2020 created history by becoming the first-ever bowler to bowl two consecutive maiden overs in a single match.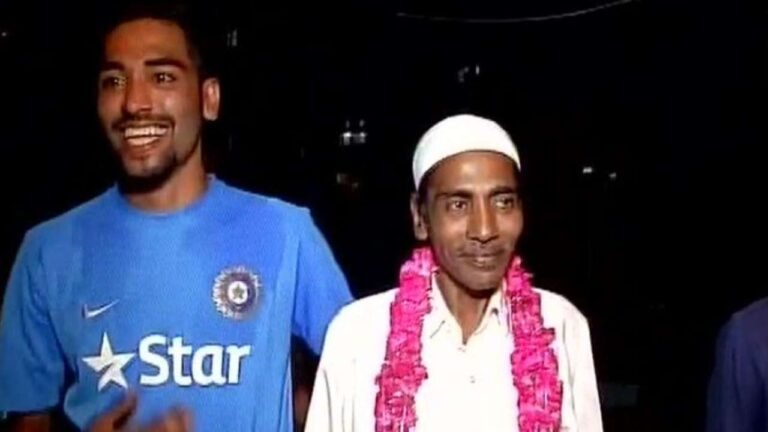 Siraj, too became a victim of this pandemic as Mohammed Siraj Father passed away. But, due to the travel restrictions, he couldn't go back for the final rites of his father. He is currently on the outskirts of Australia where he had gone for the India-Australia test series 2020. Siraj, on returning from his practice session heard about the demise of his father and was left completely shattered.  He mentioned that the last time he had a word with his father was before leaving for Australia. Siraj thanked Coach (Ravi) Shastri and Captain Virat Kohli for lending their immense support to him during this situation. 
He added "My dad's wish was always this – mera beta, desh ka naam roshna Karna (my son, make the country proud). And, I will do that for sure" Siraj lost his brother when he was 7 and now has only his mother as his family. Siraj reminiscent of all the hardships, his dad faced for his dreams.  He said his father drove an auto-rickshaw so that he could pursue his game and follow his passion. 
Siraj also stated about his father being his biggest support in life. It was his father's dream that he wanted Siraj to play for the country. He was successful in playing for the nation and bringing joy to his father.