Introduction
IPL auctions gave out many surprises to the fans. CSK, however, surprised us when they decided to buy Krishnappa Gowtham for a whopping 9.25 Crore INR. And also, he was an uncapped player. He became the most expensive Indian Uncapped Player in IPL 2021 Auctions. This proves that almost anything is possible at the IPL auctions. 
He also got congratulated by Rohit Sharma and Hardik Pandya since he is a part of the team for the third test against the English in Ahmedabad. Because he became the Most Expensive Indian Uncapped Player in IPL 2021 Auctions. 
Gowtham will be replacing Harbhajan Singh for the CSK, who was released by the team earlier this year.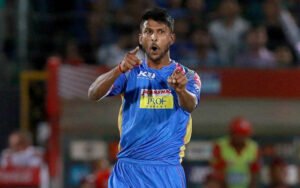 Krishnappa Gowtham's IPL Performance
Since Gowtham has bagged such a hefty price, one will be naturally curious to know about his past performance in the IPL. So, let's talk about it.
He played a couple of matches for KXIP and managed to take just a wicket. His economy was also relatively high (10.50 runs per over).
In this season, he took only one wicket in seven matches. Although, the economy was somewhat better and it stood at 8.30.
As we can see, his performance isn't that impressive. Now some of you may ask…
Then why did he fetch such a high price?
A bidding war is an answer to this question. When many teams coincidentally plan to buy a particular player, it is natural that there will be a bidding war. In this process, to secure the player, the price keeps on getting more and more.
This doesn't mean that he is not an able cricketer. It's just that this is what happened at the IPL auctions. Most of the players who fetched high prices (except well-known players like Maxwell) benefitted from bid wars.
What would Krishnappa Gowtham like to do in IPL 2021?
Of course, perform nicely and give a befitting reply to those who seem to think that he was bought at an overpriced price at the auctions.