Nauman Ali Introduction
Nauman Ali is a Pakistani all-rounder born on 7th October 1986 in Khipro, Sindh Province, Pakistan. He has played for many domestic cricket teams like Northern cricket team, Multan Sultans, Khan Research Laboratories and Hyderabad.
But, he is recently in the news for making his international test cricket debut against South Africa this month. If we talk about his domestic cricketing career in Pakistan, we would like to discuss some of his stats related to various formats.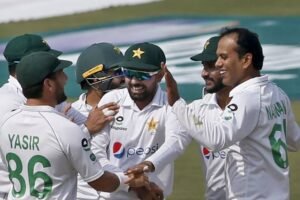 Nauman Ali stats in domestic cricket
First-class cricket
In the 80 first-class matches that he has batted, he has scored 2128 runs with a batting average of 19.88. He has scored ten half-centuries while having a top score record of 67 runs. 
His performance as a bowler has been quite effective in first-class cricket. He has managed to take 292 wickets while having the best bowling performance of 8/71 in an inning. Also, he has taken five wickets in an inning a record 19 innings. While he has also taken ten wickets in a match five times.
List-A cricket
He has played 81 List-A matches in which he has scored 803 runs with an average of 16.38. He has also smashed four half-centuries and has a top score of 74 runs currently.
His performance isn't that great as a bowler in List-A cricket as he has taken just 107 wickets. He has managed to take five wickets in an innings only once while having the best performance of 5/10.
Twenty 20 cricket
His performance as a batsman in 41 T20 matches was that he scored 179 runs with an average of 10.52.
He has taken 39 wickets in these T20 matches.
Nauman Ali Test Debut
Nauman Ali made his test debut on 26th January against the South African team at the national stadium in Karachi, Pakistan. South Africa had won the toss and had decided to bat first. In their first innings, Nauman managed to take two crucial wickets of opener Elgar and skipper de Kock and was the most economical bowler of all.
In Pakistan's first innings, he contributed 24 runs after facing 49 balls while smashing three fours. While in the second innings of the Proteas, he made a five-wicket haul.
This ensured that the South Africans were stopped at just 245 and Pakistan got an easy target of 88 runs that they achieved in only 22.5 overs.
Overall, it was a dream debut for him. While he is the 4th oldest Pakistani to have made his international test debut, he might become an important asset for the team and play a vital role in the upcoming tours and tournaments.