Bruce Oxenford is a former Australian Cricketer
Bruce Oxenford, aka Bruce Nicholas James Oxenford, is an ex-Australian first-class cricketer. He was born on 5th March 1960 in Southport, Queensland. He represented the Queensland team in two seasons from 1991 to 1993 and played eight matches for them.
Bruce was a leg-break bowler, and he took 18 wickets in these eight matches for his team. And he also took five wickets in an inning once. As a batsman, he scored 112 runs with an average of 12.44 runs with a high score of 37 runs. While his cricketing career was quite short, his umpiring career was quite prolific.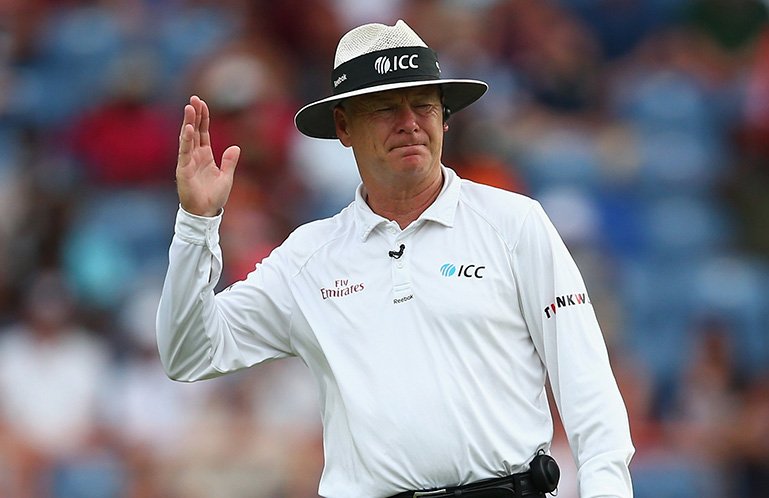 He umpired his first-ever ODI match on 12th February 2008 between India and Sri Lanka at Canberra, Australia. His first test match as an umpire was on 1st December 2010 between Sri Lanka and West Indies. While his first T20I match was between South Africa and Australia on 9th January 2006.
While as for his career as an umpire in first-class games, it started way back in November 2001 when he officiated a match between New Zealanders and Queensland. He became part of the ICC's elite umpiring panel in 2012 after fellow Australian umpire Simon Taufel decided to retire.
He was also one of the umpires who were selected for the ICC World Cup in 2019. If we talk about the statistics of his umpiring career as an international umpire, then he officiated 32 T20 Internationals, 106 One Day Internationals, and 63 tests.
Although he might have retired from umpiring in international matches, he will officiate matches in domestic Australian cricket. His 15-year long career will be cherished by him and the ICC for his contribution to cricket.
Hopefully, more cricketers will try to become an umpire after retiring from the sport. This greatly enhances the quality of the umpiring.
Bruce Oxenford Retirement
As a cricketer
As we talked about before, he retired as a cricketer in 1993. His last match was against South Australia, which started on 8th January 1993. Bruce wasn't able to take any wickets or score a decent number of runs.
His career didn't last long, and we will never know what potential he had in him as a cricketer. Still, he became a great umpire afterward and made a huge contribution to the game in his way.
As an international umpire
He announced his retirement from international umpiring on 28th January 2021. He announced this decision after the Border Gavaskar Trophy got over. Bruce Oxenford is a member of an elite group of umpires who have officiated fifty or more tests.
In his statement released to the general public, he thanked his wife and children for their unending support and said it wouldn't have been possible.
He played the role of an international umpire for fifteen long years. He will also be remembered for promoting the arm shield's use as a safety measure for umpires. The reason behind his retirement wasn't made public by him.
But he did say that he will continue to officiate matches within Australia on a domestic level.
Bruce Oxenford last test match
His last test match as an umpire was the fourth test of the Border Gavaskar Trophy from 15th January 2021 to 19th January. He, together with his fellow countryman Paul Wilson officiated the match. It was his 63rd test as an umpire.
India won the match by three wickets. His last test match did turn out to be interesting as it was quite a close one. Rishabh Pant helped India win at a crucial stage. Two Indian players also made their test debut in this game.
They were T Natarajan and Washington Sundar. Perhaps since this was the last match of the series, he decided to announce his retirement after it.
Bruce Oxenford net worth
While cricketers do have a comparatively higher net worth than umpires because of their popularity and appeal, umpires pocket a decent amount of money as a match fee for officiating a match. Bruce Oxenford's net worth can be approximately a couple of hundred thousand dollars at the most. But it is also dependent on investments which he might have made and their value.
Bruce Oxenford shield
While batsmen have ample protection in pads, helmets, gloves, and guards, umpires are quite unprotected. Concerns for umpire protection intensified after an umpire died when the ball hit his head while the game was on.
While an umpire did wear a helmet on the field to protect himself, Oxenford went one step ahead and wore a shield-like thing on his left arm as protection.
While he used it in international games and even in leagues like the IPL, his colleagues didn't look to be much interested in it, and he became the only umpire to have used a shield on the ground.
However, some might consider safety for umpires as a joke, the matter is quite serious. But, we haven't seen an umpire getting hurt in any international match till now, Many of us have seen them struggling to avoid the ball when it is hit straight by the batsman.
Bruce Oxenford arm guard
He designed an arm guard to protect himself from the ball after an umpire died in Israel after getting hit by the ball on his head. He first used it in the year 2015. While his motive was to help his colleagues with this, none of them adopted it till date.