Suraj Randiv is working as a Bus Driver in Australia. While Suraj did make it to the World Cup squad of Sri Lanka in 2011, little did he know that times like these too would come. As of now, he is working as a bus driver in Melbourne, Australia. He is a part of the fleet of buses operated by a France-based firm called Transdev.
And, it just isn't him. His fellow teammates and cricketers Waddington Mwayenga and Chinthaka Jayasinghe also work with him as bus drivers. Recently, Suraj was also in the news for being employed as a net bowler in Australia. A fan pointed this out on Twitter where he said, "I thought it was a bowler who had an action similar to Suraj, but as it turns out, it was he himself".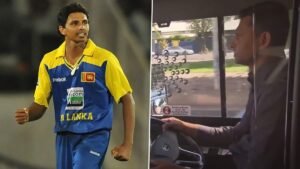 Randiv's Contribution To Sri Lankan Cricket
In a career that lasted for eight years (2009-2016), he played 12 tests, 31 ODIs, and 7 T20Is. As for his domestic career, he has played 127 first-class matches. He used to be an all-rounder in the Lankan team. Randiv currently also plays in district cricket competitions in Australia as a cricketer.
He is famous for being the bowler who deliberately bowled a no-ball in a match to make sure that Indian batsman Virender Sehwag couldn't complete his century.
What Could Have Been Done?
Indeed, it is sad to see Suraj Randiv is working as a Bus Driver in Australia to make a living. It is necessary to make sure that they live a respectable and decent life. For sure it is the circumstances that decide what a person does. But, still, something as bizarre as this should be avoided.
If possible, their cricket boards can appoint them as mentors to a group of young players. So that they can guide and groom them to become better players.