Why Fitness Is Important?
While in terms of technique many cricketers have excelled, fitness is now becoming the defining feature that is contributing positively to a player's performance. If a cricketer has got the skills and the technique, he or she can work on their fitness to get an extra edge over their competitors. We will provide the list of Top 10 Fittest Cricketers.
The Top 10 Fittest Cricketers
While cricketers have become fitter over time, these are the ones that are the fittest cricketers of the world of their times.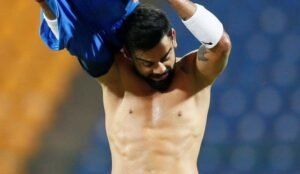 Virat Kohli: Perhaps the one guy who made fitness a trend amongst young Indian cricketer. The Indian skipper however wasn't this fit from the beginning of his career. Today, he is considered by almost all to be the fittest cricketer in the world. His fitness has enabled him to score a sky-high amount of runs and maintain his average above 50 in all cricket formats. He might also be able to play beyond the usual retirement age of cricketers if he maintains himself the way he is now.
MS Dhoni: MSD's fitness has been well noted beside his strategic genius as a captain of the Indian cricket team. His knock of 183* runs in 145 balls in 2005 in Jaipur is something that most of his fans remember. He performed very well particularly in the T20 and ODI formats during his international career. If you check his statistics for the two formats (ODI and List A) then you will notice that he has a disproportionate number of half-centuries as compared to centuries suggesting that this is what kept his average above 50.
Ravindra Jadeja:

Jadeja is yet another fitness freak who regularly posts his pictures on his social media handles. While many might argue about his batting stats being not that great, he is a great fielder.

Even Australian captain Steve Smith once said in 2020

that he was the best player in the game. He is also a valuable player for his IPL team, Chennai Super Kings.

Jonty Rhodes: Considered as the best ever fielder in the game, Rhodes played for South Africa as a batsman till 2003. He was also one of the Wisden cricketers of 1999. Jonty has helped several teams as a fielding coach including South Africa, Mumbai Indians, and Punjab Kings. He also took 5 catches against West Indies in a match on 14th

November 1993. Incidentally, Rhoades made his debut against India in test cricket.

Kagiso Rabada: He is considered to be one of those bowlers who can break Shoaib Akhter's record of bowling the fastest bowl ever. The South African powerhouse's fastest delivery to date has been clocked at 154 kilometres per hour. In the IPL, he is a part of the Delhi Capitals squad.
Johnny Bairstow: An English cricketer, he was a part of the English squad that won the 2019 men's cricket world cup. He is best known for his phenomenal performance in the IPL where he boasts an average of 40.8 runs per inning. In the ODI format too he has performed exceedingly well and this is all thanks to his fit physique.
Faf du Plessis: While he might be 36 years old, this doesn't mean that he isn't that fit. He is one of the well-known players of South Africa and Chennai Super Kings. Also, his performance in all formats of cricket has been impressive, to say the least.
Ben Stokes: Another decent English cricketer who also plays in the IPL. While chasing the total in the final match of the 2019 ICC ODI World Cup, he played a memorable inning of 84 runs and stayed not out till the end.
David Warner: Another player with a solid track record. To date, he is one of the most reliable Australian batsmen. While he is 34 years old now, hopefully, he will keep playing till he can. His topmost score of 335* runs tells us that he is someone who can play really long innings in times of need.
Brendon McCullum: While he is a cricket coach now, he used to one of the most explosive batsmen in his time. And while this wasn't something consistent, he did go on to score 123 runs in T20I and 158 in IPL respectively.
Conclusion
So, these were the cricketers that are and were considered to be really fit while they played for their respective teams. While T20 cricket may have made cricket look like a batsman's game, fitness for the bowlers is important too. This is especially true for pacers. Perhaps one way to encourage players can be to gradually make the fitness criteria stricter.