Introduction
Born on 17th February 1984, De Villiers was also the classmate of Faf Du Plessis. His jersey number in ODI and T20I cricket was 17. And also, he didn't limit himself to playing for the South African national cricket team, he has played in cricket leagues like IPL, Big Bash and PSL. Let's discuss his first-class career.
AB De Villiers Domestic Career
In 141 first-class matches, he has scored more than ten thousand runs with a high score of 278* runs. His average also touches almost 50 (49.7 runs per innings to be exact). He also scored 25 centuries and 60 half-centuries.
His List A career too was very prolific since he played a total of 263 List A matches in which he made more than eleven thousand runs with a high score of 176 runs. His batting average in this format is above 50 (53.5 runs per innings). The strike rate is also impressive at 99.5 with the total number of centuries standing at 29 and half-centuries at 63.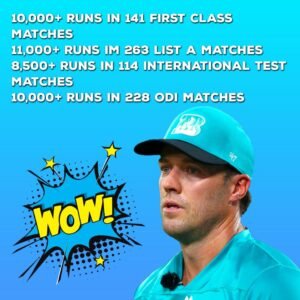 AB De Villiers International Career
His total number of test matches played stands at 114 in which he scored more than 8500 runs. He is one of the few cricketers who have their test average above 50 (50.66). His personal best score in test cricket is 278* runs with his total number of centuries and half-centuries standing at 22 and 46.
In 228 ODI matches, he scored close to almost 10000 runs. In this format too, he managed to keep his average above 50 (53.50 runs per innings). His personal best in this format stands at 176 runs while he has also scored 25 centuries and 53 half-centuries.
In total, he played just 78 T20 international matches but his average in this format wasn't that impressive (it is 26.12 for those who want to know). He didn't manage to score a single century in T20I and scored only 10 half-centuries.
AB De Villiers Test Debut
He made his test debut against the English cricket team on 17th December 2004. In his first innings, he made 28 runs in 47 balls.
While in the second innings, he scored even less (14 runs) in 21 balls before getting dismissed by Hoggard. As for the match, South African had won the toss and had elected to bat first. Thanks to the contribution of Boeta Dippenaar (110 runs) and Jacques Rudolph (93 runs)
Matthew Hoggard and Andrew Flintoff led the English bowling attack by taking 3 wickets each. The English in their first innings scored a huge score of 425 runs and A Strauss made this possible by scoring a century.
South Africa in response scored just 229 runs in their second innings. Graeme Smith was the top scorer (55 runs). The English achieved the set target of 142 runs after losing just 3 wickets.
AB De Villiers ODI Debut
ABD made his ODI debut on 2nd February 2005 against the England cricket team. Here too he failed to make a mark since he was able to score just 20 notches in 38 deliveries before getting dismissed by Kabir Ali.
As for the match itself, the South Africans had won the toss and had decided to bowl first. England put up a decent total of 270 runs in the 50 overs that they batted for. Kevin Pietersen scored a century (108 runs in 96 balls) which made this possible for the English.
And surprisingly, the South Africans also scored 270 runs in the 50 overs of their innings and the match got tied.  H Gibbs and J Kallis were the South African high scorers who scored 78 runs and 63 runs respectively.
AB De Villiers T20I Debut
Superman made his T20I debut on 24th February 2006 against the Australians. ABD didn't get a chance to play a single ball in this match. The South African had won the toss and had elected to bat first. They managed to put up a strong score of 201 runs for 4 wickets.
The South African skipper and opener Graeme Smith was the top scorer with 89* runs off 58 balls smashing 11 fours and a six with a strike rate of 153.45. H Gibbs contributed 56 runs before getting dismissed by Mick Lewis. The most successful Australian bowler was Mick Lewis who took a couple of wickets.
Australians in response made 199 runs in total and fell short by a very few numbers runs for winning the match. Brad Hogg and Brett Lee were the star performers with 41 and 43 runs to their credit. Andrew Hall was the best South African bowler who took 3 wickets.
AB De Villiers IPL Debut
Mr 360 made his IPL debut back when he used to play for the Delhi Daredevils (now Delhi Capitals) in 2008. The particular match which we are talking about happened on 2nd May 2008 when he was playing against the Chennai Super Kings.
He made 26* runs out of 21 balls while hitting a couple of boundaries. As for the match, CSK had won the toss and decided to bat first. They put a somewhat decent total of 169 runs with the help of contributions of Vidyut Sivaramakrishnan (54 runs) and MS Dhoni (32 runs). Albie Morkel also made 28 runs in just 16 balls.
Glenn McGrath was the most successful Delhi bowler since he took a wicket and was also the most economical of all. Delhi Daredevils managed to chase the target in just 19 overs as Virender Sehwag (71 runs off 41 balls) and Gautam Gambhir (50 runs off 37 balls) played match-winning innings.
ABD Fielding
ABD is well-known for his fielding skills as we all know. He represented the South African team from 2004 till 2018. He took 222 catches and did 5 stumpings in test format (he was a wicketkeeper too), 176 catches and 5 stumpings in ODI format, and 65 catches and 7 stumpings in the T20I format.
ABD Retirement From International Cricket
ABD played his last international cricket match (it was a test match) that started on 30th March 2018. He formally announced his retirement on 23rd May 2018 via a video uploaded to social media website Twitter. While many thought that he was retiring from cricket as a game, he later clarified that he will continue to play in cricket leagues for some more years.
While many speculated later that he would come back to play cricket for South Africa, these didn't turn out to be true. Post-retirement, he has continued to play in leagues like the IPL and the Big Bash League.