Chennai Super Kings is one of the most phenomenal teams in the cricket arena. The team laid its foundation in 2008. This team represents Chennai city of Tamil Nadu. The terrific team has earned the titles of IPL in 2010, 2011, and 2018. CSK is one of the most successful and popular teams in the IPL regime.
M.A Chidambaram Stadium is the home stadium of this incredible team. Mahendra Singh Dhoni is the captain of Chennai Super Kings, and he leads the team with utmost precision and composure. Stephen Fleming is the head coach of the team. Other incredible and prominent players of this team include Ravindra Jadeja, Harbhajan Singh, Suresh Raina, Sam Curran, and Cheteshwar Pujara.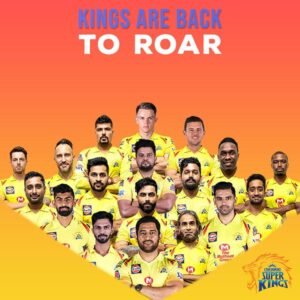 Chennai Franchise was sold to India Cements. But after a controversial stint, the team came under the supervision of Chennai Super Kings Ltd. Chennai Super Kings is undoubtedly the king of the IPL world as it owns a tremendous fanbase. The presence of MS Dhoni in the team raises the popularity of this team to whole new folds. MSD is the most pivotal reason behind the massive success of the franchise.
Since the team has gained its origin, MSD is leading the team. This fact makes CSK the only team that has not witnessed any captainship change since its establishment. Chennai Super Kings is known for numerous good reasons. It is the team that has assorted fairest play awards in IPL history. CSK is the team that has amassed the most number of purple caps for a team. It is also the only team to triumph in all home matches in a single IPL season.
All these accomplishments make Chennai the most successful franchise among all other teams. CSK is celebrated with ardent fellowship. The team has collected a vast amount of love, honours, and respect in the IPL dynasty.