Why Ask This Question in The First Place?
As teams spend crores of rupees in buying players, it is quite logical to ask the question that how do IPL teams make money, how are they recovering it, and are they even making a profit?
So, in this post, we will find the various ways in which they generate revenue through their teams and BCCI itself.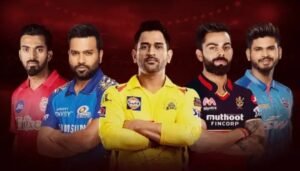 How Do IPL Teams Make Money?
This is perhaps something that most of you might have noticed. A lot of big brands like Paytm and Myntra make sure that their brand name is visible in the prominent places on the journey.
Advertising as A Team for Brands
Have you seen ads on TV where some team members of a team or players from various teams promoting a product or a service? Then the team does get its share of revenue too from that.
RCB fans would be knowing this as Mr. Nags and his antics are quite famous among them. Many other teams have their YT channels that fetch millions of views and hence, get revenue from ads or brand deals for promotion.
A Portion of The Prize Amount
Yes, when a team wins IPL or finishes at the top places, some portion of the amount won is retained by the team while the remaining is distributed amongst the players.
Share of Broadcasting Rights
A large number of people (by that we mean crores) watch IPL. That itself is a huge marketing opportunity for companies and brands.
Revenue Share of Ticket Sales
Yes, when matches are played between teams, a share of the revenue goes to the team that is playing on its home ground.
Official Websites of Teams
Yes, the teams have official websites too where they sell their products and merchandise to others. Do check out the website of your favorite team(s).
Conclusion
So, did you find any new way which you hadn't thought about that the teams are using to make money? Then do let us know in the comments section. Also, what is important here is the fact that these teams are making money through so many diverse resources.
Nevertheless, BCCI has made sure that cricket fans too gain from this and get entertained. While many might argue that this is turning a sport into something that simply generates money, that isn't true. Hopefully, the fan base of IPL will keep growing like it is now.