MS Dhoni Long Hair
If you have followed MS Dhoni's journey from the beginning, then you might have noticed that he used to really long hair in the beginning. He kept his hair like that because it was a common fashion amongst the youth of North India to keep long hair.
He was even asked about his long hair by the then Pakistani President Pervez Musharraf who even went ahead and complimented him on his looks. But his wife Sakshi said that she did not like Mahi's long orange hair look.
She said that the long hair looks better-suited by Bollywood superstar John Abraham than MS Dhoni. You would also be surprised to know that MSD who once used to sport long flowing hair shaved his head after the Indian cricket team won the ICC (International Cricket Council) Cricket World Cup.
Many people believe that Mahi had asked a mannat to God and hence he sacrificed his hair.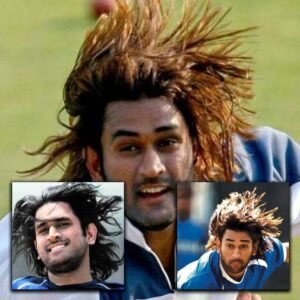 Why Did MS Dhoni Cut His Long Hair?
As per his own admission, he cut it. Because it had been growing for a lot of time and he wanted a different look. Well, while he was playing in Pakistan, then Pakistan President Parvez Musharraf asked him not to cut his hair. When some fans in the stadium had placards asking him to do so. He was inspired by John Abraham initially and hence, he started to keep his hair long.
As for cutting the hair short, there are theories like he did this because he had a crush on Deepika Padukone. But this theory doesn't hold much water as it seems it seems to be created by the media to put some masala in the news. Another point to note is that he also offered his hair to Tirupati Balaji Temple after India won the ICC Cricket World Cup in 2011.
When Did MS Dhoni Cut His Long Hair?
He cut his iconic long hair after India won the T20 World Cup of 2007 under his captaincy. Though many were surprised and even disapproved of his decision, his short hair look too became iconic.
If you ask most of his young fans many might not even recall his long hair look. But it is something that his old fans fondly remember.