Introduction
Krunal Pandya was Born on 24th March 1991 in Baroda city of Gujarat. He is an all-rounder who is a left-handed batsman and bowler. He represents the cricket team of Baroda in domestic cricket and also plays for the Mumbai Indians in the IPL (Indian Premier League). Krunal is currently married to Pankhuri Sharma.
Krunal Pandya Domestic Career
In 8 first-class matches; he has scored 470 runs with an average of 31.33 while also hitting two centuries and two half-centuries.
You would be surprised to know that in just 8 matches, his top score stands at a whopping 160 runs. He also managed to take 14 wickets with his best bowling performance being 4/40.
His List A career has been a bit prolific as he has played 67 matches to date scoring 2000+ runs with an average of 38.50 runs per innings.
He has also hit a couple of centuries and 12 half-centuries and his current batting high score stands at 133*. As a bowler, he has bagged 81 wickets too.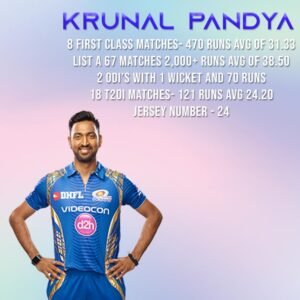 Krunal Pandya International Career
He has played just 2 ODIs in which he took a wicket and has hit 70 runs.
He is yet to make his test cricket debut for India.
In 18 T20I matches, he has scored 121 runs with an average of 24.20. His bowling performance, however, isn't that great as he has taken just 14 wickets with his best haul being 4/36.
Krunal Pandya T20 Debut
He made his international T20 debut on 4th November 2018 against the West Indies cricket team. He dismissed Kieron Pollard as a bowler and played a turbocharged inning of 21 runs in just 9 balls with a strike rate of 230+.
The toss was won by the Indian team and they decided to field first. West Indies couldn't score a proper score and they made just 109 runs.
And that too happened because Fabian Allen scored 27 runs in the final overs. Kuldeep Yadav took 3 wickets (maximum) and was also the most economical bowler. India too while chasing the set target of 110 runs struggled but finally did it in 17.5 overs.
Dinesh Karthik (31 runs off 34 balls) and Krunal were the highest scorers who also took India to the finish line. Oshane Thomas and skipper Carlos Brathwaite were the most successful bowlers as they managed to take a couple of wickets each.
Krunal Pandya ODI Debut
As for his ODI debut, it happened on 23rd March 2021 against the England Cricket Team. As a batsman, he played a lit innings scoring 58 runs off 31 balls and hitting 7 fours and a couple of sixes with a tremendous strike rate of 187.10. He also had some luck while bowling as he sent Sam Curran back to the dressing room.
The English had won the toss and decided to invite India to bat. Thanks to a strong start by the top-order batsmen, India put up a huge total of 317 runs. Shikhar Dhawan (98 runs off 106 balls), KL Rahul (62* runs off 43 runs), Virat Kohli (56 runs off 60 balls) were the top scorers including Krunal.
England managed to make just 251 runs in response and wasn't even able to play the whole 50 overs as the whole team was dismissed by 42.1 overs. It was quite a great debut for Krunal.
Krunal Pandya IPL Debut
He made his IPL debut on 16th April 2016 against the Gujarat Lions while playing for Mumbai Indians. While batting he hit 20* runs in 11 balls with a strike rate of 181.82. As a bowler, he managed to dismiss Dinesh Karthik.
GL won the toss and decided to field first. Mumbai Indians in response managed to score a decent score of 143 runs. Though none of their batsmen scored much and the highest scorers were Parthiv Patel (34 runs in 29 balls) and Tim Southee (25 runs in 11 balls).
Gujarat Lions managed to chase the set target successfully on the last ball. While they lost seven wickets in the process, opener and highest scorer Aaron Finch stayed not out till the end (67* runs off 54 balls). It was a decent debut for Krunal in the IPL and he has gone on to perform well in later seasons.
Krunal Pandya Jersey Number
He wears 24 as his jersey number.
Krunal Pandya Social Media
His Insta handle (@krunalpandya_official) has over 1.3 million followers and it is also verified (blue-tick). There he posts pictures related to cricket, his family and his life. Do check it out if you feel like it.
His Twitter handle is @krunalpandya24 that too has more than a million followers (1.1 million to be exact).