Mumbai Indians is one of the strongest teams in the Indian Premier League realm. This terrific team has glorified its lap with five IPL titles in 2013, 2015, 2017, 2019, 2020, respectively. Mumbai Indians Franchise is owned by India's largest Private Sector company- Reliance Industries. One of the wealthiest couples Nita Ambani and Mukesh Ambani are the owners of this terrific team.
The franchise embarked on its origin in 2008, and since then, there seems to be no going back for this phenomenal team. MI franchise excels on all the parameters and outshines every other team in IPL horizons with its brilliance and sheer charisma.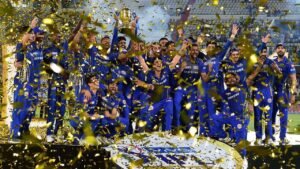 The franchise is home to astounding players such as Rohit Sharma, Hardik Pandya, Ishan Krishan, Krunal Pandya, Surya Kumar Yadav, Jaspreet Bumrah, Kieron Pollard, and many more. Rohit Sharma holds the strings of this team as its captain. Veteran players such as Sachin Tendulkar and Lasith Malinga were also a part of this franchise.
There is no doubt in claiming that Mumbai Indians is the finest T20 franchise in the entire world. In 2008, the Board of Control of Cricket in India (BCCI) sold Mumbai Franchises Reliance Industries Ltd (RIL) for $111.9. The team was the most expensive franchise sold at that time. It is how Mumbai Indians- the boss of all teams in IPL marked its way in the IPL arena. The motto of this franchise is We will rock the world.
Earlier, Mumbai Indians were called Mumbai Razors. Sachin Tendulkar suggested remaking the name, and ultimately it was named Mumbai Indians. Sudarshan Chakra is the official logo of this credible team.
MI is the most charismatic team, and it spellbinds everyone with its extraordinary performance. Mumbai Indian Franchise owns a broad fanbase and is a heartthrob of the Indian cricket audience.