Punjab Kings or Kings XI Punjab is a distinguished name in the Indian Premier League realm. The franchise is known among the masses for its versatility and fluent performance in every IPL season. Punjab Kings represents the Punjab state and radiates the positivity of rich Punjabi culture and land. This team hailed its origin basically from Mohali, Punjab and came into existence in 2008. PCA Stadium in Mohali is the home ground for Punjab Kings.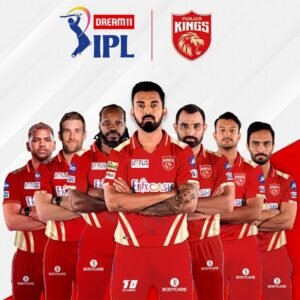 The team's logo carries an audacious lion on it, which in itself exuberates the vast calibre of this team. One of the most gleaming parts about this team is that it is owned by India's beauty sensation, Preity Zinta. Along with Preity, Ness Wadia, Karan Paul, Mohit Burman are also owners of this spellbinding team. Although the team could never win the IPL title, its popularity never stopped soaring. Kings XI Punjab always remains the talk of the IPL world with its captivating performance and versatile team. The team is one of the most sensational team's. It never fails to bestow a powerful performance and cut-throat race to the leading teams like Mumbai Indians and Chennai Super Kings.
Young and vibrant player KL Rahul leads the team as its captain. The team is currently under his leadership and is performing phenomenally. The renowned player Anil Kumble is the head coach of the team. His expertise and rich exposure enhance the prospects of the team to a whole new magnitude. Punjab Kings is also a hub of numerous good players, including Mohammed Shami, Mayank Agarwal, Dawid Malan, Chris Gayle, Nicholas Pooran, Shahrukh Khan and many more. The team owns a great fan base which enlightens the sheer charisma of the team. Punjab is undoubtedly one of the most popular teams in the IPL arena.