About Ravi Shastri
Ravi Shastri (full name Ravishankar Jayadritha Shastri) is currently a cricket coach of the Indian cricket team. He used to play for the national cricket team from 1981 to 1992. He began his career as a spinner but later turned into an all-rounder. He was quite flexible with the batting position. Because he has played as a middle-order batsman as well as an opener.
One of his major career achievements has been getting awarded as the Champion of Champions as a part of the World Championship of Cricket that was organized in Australia. He is also one of the few cricketers who have managed to hit 6 sixes in an over.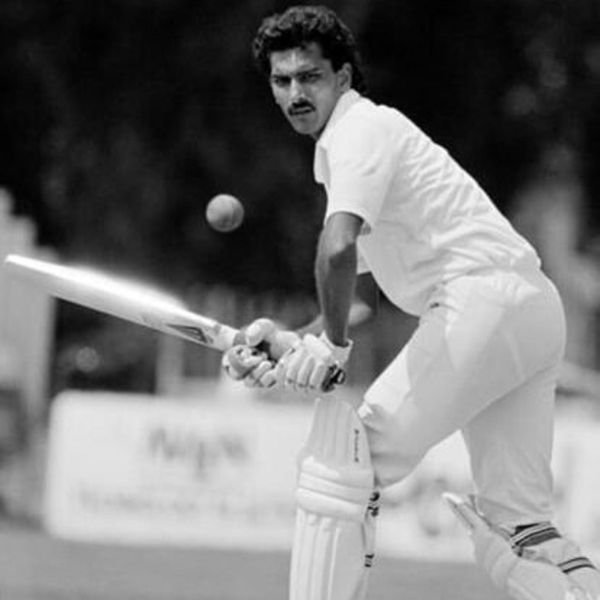 In first-class cricket, he used to represent the Mumbai cricket team. Due to knee injury, he took retirement. Since his retirement, he has also taken part in performing commentary in the matches of India.
He got the opportunity as the head coach of the Indian cricket team in 2017. If we talk about his test debut, then it happened on 21st February 1981 against the New Zealand cricket team. With regards to his ODI (One Day International) cricket debut, then it took place on 25th November 1981.
He is from Mangalore, Karnataka if we talk about his ethnicity.
He played 80 tests and 150 ODIs for the Indian cricket team. Interestingly, he wasn't allowed to play in the most important matches of the 1983 ICC cricket World Cup. Also, although he was a strong contender for the captaincy of the Indian cricket team, he managed to do so only in one test.
He began his career as a number 10 batsman but later even opened for the Indian cricket team. He himself once admitted that he started to gave more attention to batting than bowling as his career progressed.
Ravi Shashtri is currently married to Ritu Singh.
Ravi Shashtri Head Coach
In July 2017, Ravi Shashtri became the Head Coach of the Indian Cricket Team. This appointment was done by the CAC (Cricket Advisory Committee). Which was appointed by BCCI. The members of the CAC were VVS Laxman, Sachin Tendulkar and Sourav Ganguly. He is being paid a whopping 8 Crore INR per year for playing the role of head coach.
His coaching career was further extended by the BCCI in August 2019 for another two years. Hence, he will now be the coach of the Indian cricket team till the upcoming ICC T20I World Cup in India (2021).
A good thing about his reappointment is that the then CAC unanimously agreed to reappoint him. Its members were Shanta Rangaswamy, Anshuman Gaekwad and Kapil Dev.
He is also one of the most well-paid coaches in the cricketing world. Anil Kumble, who was the previous coach of the Indian cricket team, used to get 6.5 Crore per annum as a compensation.
Anil Kumble was removed from the role of the coach of the Indian cricket team because of his difference in opinions with the members of the Indian team including captain Virat Kohli.
There are also some allegations that Ravi Shastri has a 'drinking problem'. All this started when Shastri posted a promotional video for a brand while holding something which looks like a beer bottle.
Trolls on Twitter then started to call him out and referred to him as an 'alcoholic'. We think that what someone does in his personal life his private matter. We should not resort to personal attacks on a respectable personality like Shashtri.
If critics want to critic him, they are more than welcome. But this should only be done on his professional performance as the head coach of the Indian cricket team. In fact, as a coach, he has performed more than just great.
Ravi Shastri Commentary
Ravi Shastri Commentary: Ravi Shastri's style of Commentary was appreciated a lot in Indian cricket. He debuted as a TV cricket commentator in 1995 March during the World Masters Tournament. He and his fellow cricketer Sunil Gavaskar also used to do commentary for ESPN sports channel.
This happened in 2008. They did this because they wanted to do commentary for Sony MAX while IPL (Indian Premier League) was announced. Both were associated with ESPN for a long time.
Here are some of his most memorable phrases and sentences:
At the end, cricket turned out to be the winner.
I think that something's gonna give here
He has thrown the sink there
That was just which the doctor has ordered
He's dealing with boundaries here
He is nothing but a mug alongside the bag
He has really got this on the middle of the bat, I don't think there are any half measures here
The atmosphere on the ground has become electrified and there is a buzz upon the playing field.
It is kind of short and gets the required treatment
He has taken the aerial route
Bowled him!!! The off stump has now gone for a toss
One of his most memorable lines came in 2007 when Yuvraj Singh smashed 6 sixes on 6 balls against the England cricket team's bowler, Stuart Broad. He said, "That is really huge, It is quite a biggie and now it is outta here!!!" That was quite a memorable match for the Indians as it was a great feat and that too in a cricket world cup! In that match, Yuvraj Singh scored a half-century in just 12 balls.
Shastri is also a proud father of his daughter.
Ravi Shastri Test Debut
Ravi Shastri Test Debut: Shastri made his test debut on 21st February 1981. It was against New Zealand cricket team. Ravi Shastri managed to take 3 wickets in the first innings of the Kiwis. He was also the most economical bowler in that game. He outperformed even Kapil Dev in that regards.
In the first innings of the Indian cricket team, he scored 3 runs and stayed not out till the end. In the second innings of the New Zealand cricket team, Ravi Shastri shone again and managed to take 3 wickets.
He managed to score 19 runs in India's second inning. Overall if we observe, then it was a dream debut for a young cricketer like him. He managed to take 6 wickets in his very first match. But, He scored less number of runs in the match because he was a bowler at the start of his career. He switched to being an all-rounder much later.
Ravi Shastri ODI Debut
Ravi made his ODI debut on 25th November 1981 against the England cricket team. He scored 19 valuable runs while batting and 0 wickets as a bowler. This debut match did not go as well as his first ever test match. Also, India lost this game by 5 wickets to the English.
England won the toss in that match and they decided to bowl first. If we talk about the Indian innings, then they managed to score just 156 runs in total. Dilip Vengsarkar and Kirti Azad were the top scorers. There scores were 46 and 30 runs respectively.
As for the English bowling, Derek Underwood emerged as a top performer who managed to take 2 wickets with the lowest economy rate of just 1.80. The English managed to chase the set target in just 43.5 overs thanks to the excellent innings of Mike Gatting (47 runs).
Overall, it was not a great debut for Ravi Shastri.
Last Match of Ravi Shastri
Ravi Shastri played in his last ever international cricket match on 26th December 1992. It was a test match against the South African cricket team. Shastri managed to score ten runs in the first innings and five runs in the second innings.
He couldn't manage to pick a wicket against both the South African innings. As for the match, South Africa had won the toss and had decided to bowl first. India in its first innings managed to score just 212 runs. Only the then skipper Mohammad Azharuddin scored 60 runs and offered some resistance to the South African bowling attack.
Allan Donald (5 wickets) was the best South African bowler in India's first innings. South Africa then scored 275 runs with Hansie Cronje's 135 runs and Andrew Hudson's 52 runs. India then scored 215 runs in their second innings. South Africa then quickly managed to chase the set target of 153 runs.