Introduction
You would be surprised to know that his Uncle Peter Topley and father Don Topley too were cricketers. Reece Topley was Born on 21st February 1994, he has represented Essex, Hampshire, Sussex, and Surrey in English county cricket till now. He is yet to play in a major T20 league like the IPL or the Big Bash.
One thing that strikes is the fact that while he has been playing since 2015 for the English team, the number of matches played by him is very less. Hopefully, he will perform well and will be given more chances to represent England in more matches.
Reece Topley Domestic Career
In over 36 first-class games, he has taken 133 wickets and has even taken 5 wickets in an innings 7 times and 10 wickets in a match a couple of times. Meanwhile, his best bowling performance has been 6/29.
He to date has played 56 List A matches and has managed to bag 94 wickets. His bowling best is currently at 4/16.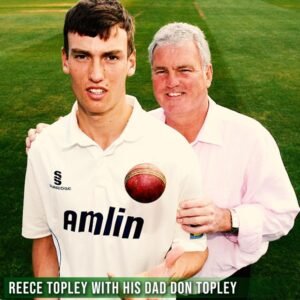 Reece Topley International Career
In 11 ODIs, he has taken 17 wickets with his best performance as a bowler at 4/50.
He is yet to make his international test cricket debut for England.
His performance in the T20I format hasn't been that great as he secured just 5 wickets in 6 matches. Also, his personal best is 3 wickets for 24 runs.
Reece Topley ODI Debut
He made his ODI debut on 13th September 2015 against Australia. He didn't manage to take a wicket but made 6 runs in 27 deliveries. The English had won the toss and decided to bat first. But they didn't know about the disaster that was waiting for them.
They managed to score just 138 runs before they were dismissed in just 33 overs. It was all thanks to the fantastic bowling performance of Mitchell Marsh and John Hastings who took 4 and 3 wickets respectively.
Australia chased the target in mere 24.2 overs with Aaron Finch (70 runs) and George Bailey (41 runs) taking them to the finish line.
Reece Topley T20 Debut
His T20I debut happened on 18th March 2016 against the Proteas. He didn't manage to take a wicket and was very expensive with an economy rate of 16.50 runs per over. As for batting, he didn't get the chance to bat.
England won the toss and decided to bowl. The South Africans batted their way to a sky-high score of 229 notches. Amla, De Kock and Duminy all scored half-centuries. But England surprisingly chased the target while just 2 balls were remaining.
Bizarrely, the Proteas gave away 26 runs as extras and that is what became the main reason for their defeat.
Reece Topley Social Media
He has about fifteen and a half thousand followers on his account (@reecejwtopley) and is yet to get the blue tick (verified) check.
Well, this is interesting because there is a fan account (@ReeceTopleyFans) that is there on Twitter but there isn't any personal account of Reece Topley himself.
Reece Topley Personal Life
He has dated Elina Svitolina, a Ukrainian tennis player in the past. As of now, he hasn't made what his current relationship status is.
Reece Topley Height
6 Feet 7 Inches