Shehan Jayasuriya Quits Sri Lankan Cricket to Play for USA: Shehan Jayasuriya, (not to be confused with Sanath Jayasuriya) has made his decision to not to play any further matches for the Sri Lankan cricket team in future.
He announced his decision yesterday to the Sri Lankan cricket board. Along with that, he has also announced that he and his family will be moving to the USA (The United States of America). That is the reason Shehan Jayasuriya quits Sri Lankan cricket to play for USA.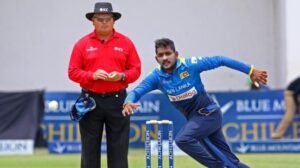 Shehan thanked the cricket board for providing him with the opportunity of playing for the national cricket team. The cricket board also wished him all the very best for whatever he undertakes in future.
If we talk about why he might have made this decision then it might be because he might have found out about some better cricket related opportunity in the USA.
Born on 12th September 1991, Shehan made his international debut on 1st of August 2015 against the Pakistan cricket team in a T20 International match.
He used to play the role of a batting all-rounder for the Lankans. As for his ODI debut, then he made it on 1st of November 2015 against West Indies.
He was yet to debut in the test cricket format before he decided to take retirement. In total, he played 12 ODIs, 18 T20I and 38 first class cricket matches. His performance in international cricket was lower than average.
He managed to score little runs and wasn't able to take much wickets either. You would be surprised to know that in all the international matches that he played, he managed to score just 1 half-century!
Comparatively, he played way better in the first-class cricket than international cricket. He managed to maintain a decent batting average of 39.91 and even managed to take 85 wickets in total.
He managed to take 5 or more wickets for 6 times in total in this format.