It's every cricketer's dream to get into the Double Century List In ODI cricket in the record books of International cricket. Perhaps it's a tough row to hoe as achieving this extent of victory requires more than courage, skill, and patience. But, it needs remarkable resilience to score a double a century in ODI Cricket. Till now, eight cricketers have featured in the Double Century List In ODI. But, 10 double centuries have been recorded in ODI's. Surprising isn't it? Well, when every cricketer wishes to make an entry in the list of double century holders just once. But, the great Indian cricketer Rohit Sharma has reached 200 run milestones not just once, but three times.
Apart from Rohit Sharma, seven other cricketers have conquered this milestone in their One Day International career. But, two of them are a woman who has acquired this prestigious position. However, Belinda Clark was the first-ever batsman who has scored 200 runs in ODI.
Double Century List In ODI:
The wonder woman Belinda Clark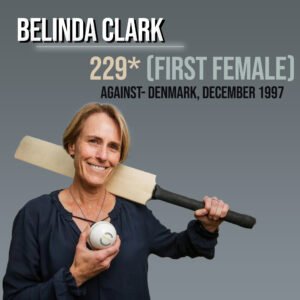 The first cricketer who has surprised the fans of cricket by scoring a double century is a woman. But, she gave hope to every other batsman around the world that 200 runs are a dream that can be achieved. On 16th December 1997, the international Australian cricketer has scored 229 runs against Denmark women's team in women's One Day International at MIG Club Ground, Mumbai. She having a strike rate of 147.74 scored 22 Fours. Belinda Clark had helped the team to win the match. She played for the Australian women's national team for 14 years from 1991 to 2005. So, Belinda holds the women's one day-record of scoring the highest runs in ODI's.
Master Blaster Sachin Tendulkar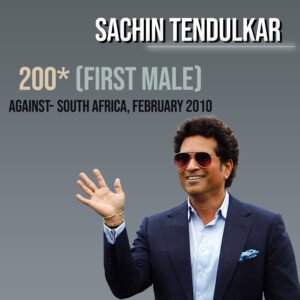 After the prestigious moment in 1997, Sachin Ramesh Tendulkar made everyone proud by scoring a double century on 24 February 2010. He became the first male batsman to hold this record. With 25 Fours, 3 sixes, and having a strike rate of 136.05. Sachin is regarded as the God of Cricket. Because he has conquered this feat against South Africa at Captain Roop Singh Stadium, Gwalior. Sachin smashed a perfect 200 run in just 147 balls and proposed a huge score of 401 runs for South Africa to beat but Team India had won the match. However, he was awarded as the 'man of the match' for carving his name in the world book record of 200 runs achievers in ODI's. However, Sachin holds the sixth position in the world record of the highest individual score in ODI.
Destructive Batsman Virender Sehwag  
On 8 December 2011, Virender Sehwag broke the record of Sachin Tendulkar by scoring 219 runs in an ODI against West Indies at Holkar Cricket Stadium, Indore. Nicknamed Viru, he became the second Indian batsman to achieve the 200 run milestone. Virender Sehwag who is known for his superb batsmanship starting from the first ball smashed 25 fours and 7 sixes and scored 219 runs in just 149 balls. With a strike rate of 146.97. Well scoring a double century is not a difficult task for Viru, him being the most aggressive batsman in the Indian Cricket team. Virender Sehwag holds the third position in the world record of the highest individual score in ODI.
Hitman Rohit Sharma
The name Rohit Sharma has been mentioned three times in the book record of double centuries. The revolutionist of the ODI cricket team having achieved three double centuries. That is the reason Rohit Sharma is known as Hitman. Rohit Sharma has become the king of our hearts. Not just that, he even holds the first position in the world record of the highest individual score in ODI of scoring 264 runs against Sri Lanka.
On 2 November 2013, Rohit Sharma had a strike rate of 132.28 smashed 12 fours and phenomenal 16 sixes, which holds a world record itself, and scored 209 runs against team Australia at the M. Chinnaswamy Stadium in Bangalore. This was his first double century but who knew he would be unstoppable after this.
Afterward, on 13 November 2014, he scored 264 runs with 33 fours and 9 sixes against Sri Lankan Team Eden Gardens, Kolkata. It was the highest score to date.
On 13 December 2017, Rohit Sharma became the first player to have hit multiple 200s in this format. But, he again conquered a 200 run milestone against Sri Lanka with a score of 208. With a strike rate of 135.94 and hitting 13 fours and 12 sixes. He helped the Indian Team to win against Sri Lanka at PCA IS Bindra Stadium, Mohali.
The enigmatic Martin Guptill
On 21 March 2015, Martin James Guptill, the opening batsman has scored an unbeaten 237 runs in 163 balls. It was against West Indies at Westpac Stadium, Wellington. It was his best score in the World Cup quarter-finals. The New Zealand International opening batsman smashed 24 fours and 11 sixes having a sparkling strike rate of 145.39. He outwitted the West Indies bowlers and helped New Zealand won a prestigious victory. So, Martin Guptill holds the second position in the world record of the highest individual score in ODI.
The Universe Boss Chris Gayle
Chris Gayle has conquered the 200 mile run in the ICC World Cup innings. But, it was against Zimbabwe at Manuka Oval, Canberra on 24 February 2015. He with his Gayleforce has tormented the Zimbabwe bowlers with horror in that innings. Gayle, a Jamaican batsman scored with a strike rate of 146.25 hit 10 fours and 16 sixes. However, he accomplished his dream of becoming a double centurion in this format. So, Gayle holds the fourth position in the world record of the highest individual score in ODI.
The pride of Pakistan Fakhar Zaman
On 20 July 2018, Pakistan reached greater heights. When Fakhar Zaman smashed a score of 210 runs against Zimbabwe at Queens Sports Club, Bulawayo. He registered his name in the world record of double century holders. But, he hit 24 fours and 5 sixes with his aggressiveness and patience. Fakhar Zaman became the first-ever Pakistani player acquiring the double century title in ODI's. So, Fakhar holds the fifth position in the world record of the highest individual score in ODI.
The Second Woman Amelia Kerr
Amelia Kerr became the second woman to hold the world record of the highest individual score in ODI. Because she scored 232 runs by smashing 31 fours and 2 sixes in Women's One Day International. She played a knock against Ireland at Castle Avenue, Dublin. Amelia Kerr accomplished her dream of becoming a double centurion and made New Zealand proud. 
Ishan Kishan
On November 11, 2022, Ishan Kishan of India's men's national cricket team player created history during his nation's third ODI game with Bangladesh. he became the seventh batter in one-day world cricket to score a double century as well as the fastest to do it.
Shubhman Gill
In the first ODI match between India and New Zealand on Wednesday in Hyderabad, Shubman Gill blasted his own double century off with just 145 deliveries. He was the fifth Indian cricketer to accomplish the record, and his performance was studded with eight enormous sixes and 19 extra-large boundaries.
Fastest Double Century in ODI Cricket
While the first-ever ODI match was played in 1971, it was not before 2010 when a batsman managed to reach the 200 runs mark in ODI cricket. Since then, a lot of batsmen have achieved this feat and, naturally, fans will get curious about who was the fastest of them all. Chris Gayle is the record holder of the fastest double century in ODI cricket.
The date was 24th February 2015 and the venue was Canberra, Australia. It was a World Cup match between West Indies and Zimbabwe. West Indies had won the toss and had decided to bat first. Little did skipper Jason Holder knew that history was going to be created.
Gayle had opened with his teammate Dwayne Smith who was dismissed on the second ball of the game. But then Chris Gayle and Marlon Samuels scored like anything. Gayle made history by scoring his double century in just 138 balls.
His total score was 215 runs in 147 deliveries before he was dismissed by Masakadza after getting caught by Elton Chigumbura. He smashed 10 fours and 16 sixes in his innings while maintaining a superb strike rate of 146.26.
While his teammate Samuels played an inning of 133 runs in 156 balls. West Indies managed to win this match by 73 runs as Zimbabwe put up a tough fight by scoring 289 runs. Chris Gayle as you all might be guessing was declared as the man of the match for his excellent innings.
He beat the record set by Virender Sehwag in 2011 by just 2 balls. Interestingly, Sehwag had made this record against Gayle's team, West Indies. Anyway, Gayle's inning will forever be remembered by fans as the greatest ever and maybe someone will be able to break his record in the future.
The highest ODI runs by a batsman
Rohit Sharma 264
It is Indian batsman Rohit Sharma who currently holds this record. He made 264 runs against the neighboring Sri Lankan team in Eden Gardens Kolkata on 13th November 2014.
He faced a total of 173 balls and hit 33 fours and 9 sixes. His strike rate was a whopping 152.6! An interesting part of this inning was that Rohit got out on the last ball of the Indian innings (India was batting first).
Surprised to know this? There is another interesting fact about this match. The Sri Lankan team in total scored just 251 runs. Which was less than what Rohit had managed to score by himself (264 runs).
Rohit, as you may have guessed, was declared the man of the match. You will also be surprised to know that he is the only batsman in the world who has managed to score three double centuries in his career. Hopefully, we will see some more from him in the future.
How to Score Double Century in ODI?
A player needs to consider a lot of factors before aiming to score a double ton in ODI cricket. Some of them are current situation of the team's innings, the pitch, bowling attack of the opposing team, available overs for batting. Simply aiming for a 200+ score might not be good as the interests of the team can get compromised in this process.
Another way of looking at things is to think strategically and not taking any chances of good deliveries. Not losing your wicket is obviously an obvious golden rule. Holding one end is great for the batsman batting with you as it generates confidence.
Is It Easy To Get Featured In The Double Century List In Cricket?
No. It cannot be said that it is easy to get featured in the list as since more than 50 years in the history of ODI cricket, only 6 cricketers have achieved this feat. If a batsman plays naturally without putting pressure on himself while maintaining a strike rate of at least 130 or above, he can score a double century easily without any issue. But the conditions are that an ample number of overs should be available and he should refrain from playing risky shots (minimize chances of losing a wicket).
Facts About Double Centuries In ODI
There are many things that statistics and observation coveys to us when it comes to players and the matches themselves. In this section, we will share some interesting facts when it comes to those who scored double centuries in ODI.
Whenever a batsman has scored a double century in One Day International format, his team has always won.
Though it is true that Rohit Sharma has scored three double tonnes, he also has the record for scoring one with the least strike out of all that have achieved this unique feat.
Two double centuries have been made in the ICC ODI Cricket World Cup. Both happened in the 2015 edition of the tournament.
There is a high degree of correlation between the end score of players who scored 200+ and their strike rate.
The first four double-hundreds were all made by Indian batsmen.
Virender Sehwag was also the captain of the Indian team in the match where he made 219 runs.
Players who went 200+ and focused more on boundaries could score a lot more than those whose focus was on sixes.
Frequently Asked Questions (FAQs)
How many double-centuries have been scored in ODI cricket?
There has been ten double centuries to date in ODI cricket. Interestingly, five of them have been scored by Indian players and out of which three were scored by Indian batsman Rohit Sharma alone. Whenever a batsman has hit a double-century, his/her cricket team has always won a particular match.
Who scored the most double-centuries in ODI cricket?
Rohit Sharma has scored the most significant number of double centuries (three) in ODI cricket. He scored his first double century against Australia in 2013, second against Sri Lanka in 2014, and third one again against Sri Lanka in 2017. His best total out of these three was 264 runs.
How many Indians have scored double centuries in ODI cricket?
There have been three Indians who have managed to score double centuries in ODI cricket. They are Rohit Sharma
,
Virender Sehwag, and
Sachin Tendulkar
. Out of these, Rohit is the only one who has managed to do this more than once (three times). While Sachin was the one who did this for the first time.
Who hit the first 200 in ODI?
Master Blaster Sachin Tendulkar hit the first-ever 200 in ODI cricket. He achieved this feat on 24th February 2010 in Gwalior, Madhya Pradesh, against the
South African cricket team
. He stayed not out until the end and (200 runs) and faced 147 deliveries while smashing 25 fours and three six.
Who was the first Indian women cricketer to score a double century in ODI cricket?
There is yet to be an Indian woman cricketer to achieve this feat. We hope that this will be achieved soon by one of the Indian women's team members. If we talk about the first-ever double century by a woman, then it was Australian Belinda Clark who did this in 1997.
Which Player Has Scored 3 Double Centuries in ODI Cricket?
Rohit Sharma has scored 3 double centuries in ODI cricket. First, 209 runs against Australia, second, 264 runs against Sri Lanka and the third one, 208* runs again against Sri Lanka.
Is a Double Century Counted as Two?
No. They aren't counted as two single centuries as many might think.
How Many Players Hit 200 ODI Runs?
6 players have crossed the 200-run mark in ODI cricket. One of them, Rohit Sharma has done so a record number of times (3) and is also the highest scorer in ODI cricket (264 runs).