Hardik Pandya and KL Rahul are two outstanding players in the cricket industry who went for the controversial show Koffee with Karan.
The duo is equally eminent among the youth because of their incredible playing style. Hardik Pandya and KL Rahul appeared in Koffee with Karan. They sipped coffee with the renowned director and filmmaker Karan Johar. They both spilled some beans in the show with their hasty replies, along with gossiping and drinking coffee. After the telecast of the episode starring these young cricketers, it became the talk of the town.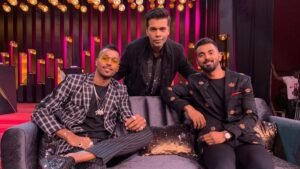 The sad part is that the episode attained limelight for all wrong reasons. Hardik Pandya and KL Rahul were seen passing derogatory and disgusting remarks about women and other delicate issues. Hardik was prominently seen passing dirty and sexist comments. Both the cricketers were trolled brutally when the episode went on air. The host Karan Johar asked questions about relationships and other affairs from the cricketers. Hardik mostly went off zone and stated some vulgar remarks on women. The dialogues and attitude of players hurt the feelings of a significant chunk of people.
The board of cricket in India BCCI was severely offended by the player's comments. BCCI suspended them for a certain period after witnessing cricketers' poor enactment on the Koffee with Karan show. However, both Hardik Pandya and KL Rahul took to Twitter and stated their apologies for hurting the people's emotions and sentiments. But, people felt that their apology would not rub the comments they have passed in the show as that reflected their mindset.
Hardik was trolled more brutally as he spoke severely about women and casual sex in the wrong way. Hotstar also took immediate action in this respect and removed the episode starring cricketers. This incident shook the lives of the players quite terribly. It also left a poor remark on the professional career of both the players.