List of Brothers In Cricket
Without further ado, let's start the list of brothers in cricket with the famed Pandya brothers.
1. Pandya Brothers
Born on 11th October 1993, Hardik is an Indian all-rounder who is a right-handed batsman and a medium-fast bowler. He has been playing for the Indian cricket team since 2016 and to date, has played 11 Tests, 57 ODIs, and 38 T20Is.
Hardik Pandya plays for the Mumbai Indians in the IPL and has been an integral part in their winning the 2020 IPL title. He started playing first-class cricket for the Baroda team in 2013. 27 years old, Hardik has a lot of cricket up ahead of them and his fans have a tonne of expectations from him.
He belongs to a middle-class family but being a famous cricketer did bring him fame and money. Hardik is currently married to Natasa Stankovic and they also have a child together. He was involved in a controversy in January 2019 where he made some derogatory remarks against women at the Koffee With Karan Show.
Though he is the elder Pandya brother (29 years old), he started playing for the Indian team much later in 2018. To date, he has only played T20I matches for India. He is married to Pankhuri Sharma currently. Krunal Pandya is a left-handed batsman and bowler. He too plays for Baroda in first-class and domestic cricket in India.
Incidentally, he plays for the Mumbai Indians as well in the Indian Premier League since 2016. The Pandya brothers have contributed a lot to the success of MI in recent years. He has more than a million (1.1 to be exact) followers on his Instagram handle (@krunalpandya_official) and a million followers on his Twitter handle (@krunalpandya24). Both of his handles are verified accounts.
Both brothers are an inspiration to millions of Indians who wish to represent their country at the international level. Hopefully, they will keep performing well and help India many more matches.
2. Pathan Brothers
Born on 27th October 1984, Irfan Pathan played for the Indian cricket team from 2003 to 2012 for almost a decade. He also represented a number of teams in the IPL. In total, he played 29 tests, 120 ODIs and 24 T20Is.
His first-class career was also prolific as he went on to play 122 matches. He is currently married to Safa Baig. They both also have a child by the name of Imran who was born in December 2016.
Yusuf is the elder of the Pathan brothers as he was born on 17th November 1982. Incidentally, he too was an all-rounder like his brother Irfan. Though his international career didn't last long and he played from 2007 to 2012.
He has played 57 ODIs and 22 T20Is for the Indian cricket team. Though he is considered to be a decent T20 cricketer, he wasn't able to hit a single half-century in the T20I format. He is married to Afreen and they have a son together.
3. Akmal Brothers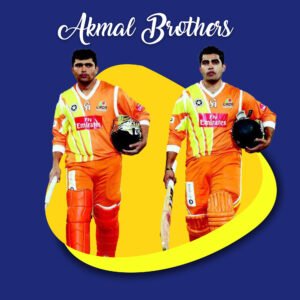 He is a former Pakistani cricketer who played for the national team from 2009 to 2019 for almost a decade. Incidentally, his father was an official in the Pakistan cricket administration. He was born on 26th May 1990 and is a right-handed batsman and a spinner. In his decade-long career, he played 16 tests, 121 ODIs, and 84 T20Is. He was also once banned by the PCB for corruption-related charges.
His career while representing the Pakistani cricket team was somewhat more prolific than his brother's as he played for the national team from 2002 till 2017. Born on 13th January 1982, he was a wicket-keeper batsman who represented the country in 53 tests, 157 ODIs, and 58 T20Is.
He was also alleged of fixing a match by the PCB and hence was dropped from some of the matches. The Akmal brothers did however contribute a lot to Pakistani cricket.
4. Hussey Brothers
Born in Mount Lawley on 27th May 1975, Michael represented Australia from 2004 to 2013. His role was that of a batsman (left-handed). Surprisingly, he was playing first-class cricket since 1994 for Western Australia. He played 79 tests and 185 ODIs for Australia. Michael has also written an autobiography by the name of Underneath the Southern Cross. He also served as the captain of the Australian national team in the ODI format.
Michael's brother David's international career lasted for just 6 years from 2008 to 2013. He too was a right-handed batsman. Surprisingly, he didn't play a single test match in his international career. Though he did play 69 ODIs and 39 T20Is. He used to play in the IPL as well for the KKR, KXIP, and CSK. In domestic cricket, he used to represent Victoria and played 192 first-class matches and 260 List A matches.
5. Curran Brothers
The three are the sons of former Zimbabwe cricketer, Kevin Curran. Now, their grandfather's name was Kevin Curran as well. You will notice that their popular names are a short version of their actual name.
The youngest of the three, Samuel plays for Surrey when it comes to county cricket and Auckland Aces in the case of New Zealand's first-class cricket. Yes, he is a part of the IPL as well currently signed up with CSK.
Benjamin is yet to play for the English national team but he represents the Northamptonshire county.
Thomas too plays for Surrey like Samuel and has represented England in international cricket. Though he is the only one of the Curran brothers to have played in the Big Bash League. In IPL, he has represented Delhi Capitals, Rajasthan Royals and Kolkata Knight Riders.
6. Waugh Brothers
Born on 2nd June 1965, he had a prolific career that spanned almost 2 decades (1985-2004). He played 168 test matches and 325 ODI matches. His domestic career was also quite great as managed to play 356 first-class matches and 436 List A matches. His average in test cricket was 50+ (51.06 to be exact).
He was also born on the same as Steve as they are twins. Though his career lasted a little lesser than Steve (1988-2002). He played 128 tests and 244 ODIs for the Australian cricket team. His test average was somewhat lesser than his brother and stood at 41.81 runs per innings.
7. Lee Brothers
Born on 8th November 1976, Brett Lee played for the Australian cricket team from 1999 to 2012. His role used to be that of a right-handed pacer who represented Australia in 76 tests and 221 ODIs. He also used to play in T20 leagues like the IPL and Big Bash.
He is also quite tall as he stands at 6 feet 2 inches. As for domestic cricket, he played 116 first-class and 262 List A matches.
The elder one of the Lee brothers, Shane was born on 8th August 1973. He too represented Australia but only in the ODI format (45 matches). His international career began in 1995 and ended in 2001. Hence, he wasn't able to play in T20 leagues like his younger brother.
Sadly, he had to retire from cricket because of his knee-related injuries. He also played 147 List A and 93 first-class games for New South Wales.
8. Marsh Brothers
The elder one of the Marsh brothers, he is a left-handed batsman who has been representing Australia since 2008. He has also been part of IPL and the Big Bash League. While his international career to date has been limited to 38 test matches and 73 ODIs, his domestic career has been quite prolific. We say this because he has played for Western Australia in 163 first-class and 170 List A matches. He stands 6 feet and an inch tall.
If his brother is 6' 1", he is even taller as he stands at 6 feet and 4 inches. He has been playing for the Australian team since 2011. While his brother is yet to play his first T20I match, Mitchell has played 20. He too like his brother has been a part of leagues like Big Bash and IPL. In total, he has played 32 Tests and 60 ODIs. His nickname is Bison and he is an all-rounder.
9. McCullum Brothers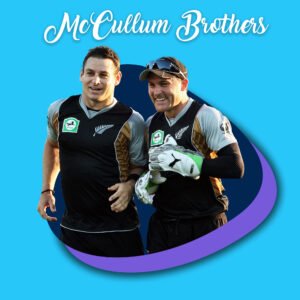 Brendon was born on 27th September 1981 in Dunedin. He played for the Kiwi cricket team from 2002 to 2016. In total, he went on to play 101 test matches, 260 ODIs and 71 T20 internationals. He also played in T20 leagues like the IPL and PSL for various teams.
He is the older one of the McCullum brothers as he was born on 1st September 1980. His career was comparatively short-lived since he played international cricket from 2007 to 2016. He represented the Sydney Sixers in the Big Bash League as well. He used to be an all-rounder.
10. Morkel Brothers
The younger Morkel brother was born on 6th October 1984. He is quite a tall cricketer (6 feet 5 inches) and represented the South African national team from 2006 to 2018. He used to play mainly as a bowler. Besides, he also represented teams in the IPL and the Big Bash.
While his brother was mainly a bowler, Albie was an all-rounder with the South African team. He played for the national team from the year 2004 to 2012 and hence had a comparatively shorter career than his brother. But, concerning test cricket, he managed to play just a single test.
11. Flower Brothers
The younger one of the Flower brothers, he played for Zimbabwe for almost two decades (1992 to 2010). He used to play the role of an all-rounder and is still remembered by many to be one of the top-class players of Zimbabwe of all times.
Incidentally, he made both his ODI and Test debuts against the Indian cricket team. While he played 221 ODIs and 67 tests in his international career, he had a prolific domestic cricket career too since he played 188 first-class and 366 List A matches.
You would be surprised to know that he has also played in the English county cricket too.
He led the Zimbabwe cricket team as a captain in his time. But his career wasn't that prolific as his brother as he played for just over a decade. Interestingly, at the end of his career, his test average as a batsman stood above 50. He unlike his brother wasn't born in Zimbabwe but was in South Africa.
After retirement from cricket, he has had a successful coaching career too. For his contribution to sports, he has also conferred the title of Officer of the Order of the British Empire or OBE as it is commonly known. He used to be a left-handed batsman.
12. O'Brien Brothers
He is an Irish cricketer and the younger of the O'Brian brothers. Kevin is an all-rounder by role and has also been seen wicketkeeping sometimes. His father too was a cricketer. Kevin's international debut took place in 2006 and since then, he has been playing for Ireland. He has played 150+ ODIs to date.
While his brother is still playing, Niall retired in 2018. Incidentally, he has also played in the Bangladesh Premier League. Both the brothers have one similarity though. They have played very few numbers of tests but have prolific ODI careers. Needless to say, he has played a decent number of matches in domestic cricket too.
13. Crowe Brothers
The younger Crowe brother who represented New Zealand for more than a decade (1982 – 1995) played 77 tests and 143 ODIs in his international career.
Jeff's career was relatively less prolific as compared to his brother Martin as he played from 1983 to 1990 for the Kiwi team in 39 tests and 75 ODIs.
Featured Image